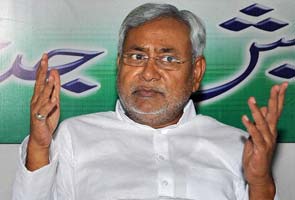 Patna:
Bihar Chief Minister Nitish Kumar on Tuesday cancelled the dinner for members of Parliament and the state legislature of the ruling Janata Dal-United (JD-U) following the death of 18 people, mostly children and women, during the Chhath festival celebrations in Patna.
"The Chief Minister has cancelled the dinner, scheduled for November 21, for the party MPs and legislators ahead of the completion of seven years in power," JD-U spokesperson Sanjay Singh said.
Mr Singh said the Chief Minister was very sad after the shocking incident.
State Home Secretary Amir Subhani has initiated an inquiry into the stampede.
"We have begun an inquiry into the cause of the stampede," Mr Subhani told journalists in Patna.
Nitish Kumar at a press conference on Monday night (11 p.m.) refuted reports that a bamboo bridge collapse caused the deaths and said it was due to a stampede.
According to an official in the Chief Minister Office, Nitish Kumar has directed the top health department officials to provide treatment to the injured.
Opposition Rashtriya Janata Dal Chief Lalu Prasad is likely to arrive to Patna from Delhi to meet the families of those killed and visit injured in the hospitals.
At least 15 people, including children and women, were killed and many others were injured in a stampede during the Chhath puja and celebrations in Patna Monday evening.
Celebrated six days after Diwali, Chhath is dedicated to the Sun god. During the festival, married women observe fast for 36 hours, and devotees offer wheat, milk, sugarcane, bananas and coconuts to the Sun god.