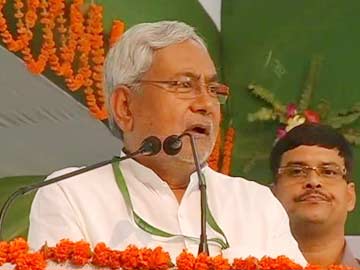 Patna:
In a scathing attack on Bihar Chief Minister Nitish Kumar, senior Bharatiya Janata Party (BJP) leader and former minister Giriraj Singh today said he was quarrelling like a "dehati aurat" (rural woman) with Narendra Modi out of "jealousy".
"He is behaving like a dehati aurat (rural woman) and quarrelling with Narendra Modi out of jealousy," Mr Singh told reporters at Patna airport after Narendra Modi flew for Gaurichak to meet family of blast victim Rajnarain Singh.
"It does not seems he is a Chief Minister the way he is acting against Narendra Modi out of jealousy," he said. "This reflects his small mindedness," he said in a strong attack on Mr Kumar.
On the chief minister's indirect dig on Mr Modi that some people were trying to "disturb" the harmony of the state, Mr Singh said Mr Kumar is "vitiating" the environment.
But the BJP would not allow this to happen, he said.
Mr Singh, who served as minister for Animal Husbandry before removed after split on June 16, alleged that there was violation of protocol for Mr Modi.
"The District Magistrate did not visit him at state guest house and also at airport except for a Deputy Superintendent of Police level officer no other senior civil or police officers were present to supervise security arrangements for Narendra Modi at the airport," he said and alleged this was done to "please" Mr Kumar.
Narendra Modi after reaching Patna around 11:15 pm last night is staying at the state guest house which is across the road to Chief Minister Nitish Kumar's 1 Anne Marg residence.