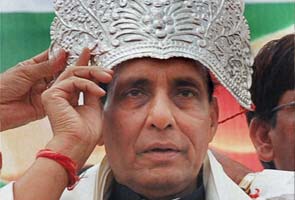 Rajnath Singh is set to be the new president of the main opposition party, the BJP, which will continue the tradition of electing its leader unopposed.
Current president Nitin Gadkari has resigned. In a short statement issued before he left Mumbai for Delhi on a late night flight yesterday, Mr Gadkari said, "I have committed no wrong or any impropriety either directly or indirectly. I do not wish that this should in any way adversely affect the interest of the BJP. I have therefore decided not to seek a second term as the president of the BJP."
(Read full statement)
Till yesterday evening, Mr Gadkari appeared unwilling to relinquish his claim on an unprecedented second consecutive term, but an income tax investigation failed his chances. He is expected to formally propose Mr Singh's name as his successor. Today is the last date for filing nominations.
Mr Singh, 62, has served as BJP president earlier; sources said the BJP's ideological mentor, the Rashtriya Swayamsevak Sangh, said it would want Mr Singh, an old RSS hand, to be BJP president if its first choice, Mr Gadkari, was unacceptable to the party. It was the RSS that handpicked Mr Gadkari for the party's top job in 2009.
Two day ago, Mr Gadkari's second term seemed well within reach. Things started to unravel for him yesterday when senior leader Yashwant Sinha said he would contest elections for party president; Mr Sinha has been arguing that installing Mr Gadkari in office once again would dent the BJP's credibility perilously close to Lok Sabha elections in 2014. Top leaders like Sushma Swaraj, Arun Jaitley and M Venkaiah Naidu then met with the RSS and decided on Rajnath Singh as a consensus candidate.
In Mumbai, sources said, at a meeting with LK Advani and an RSS leader, Mr Gadkari offered to withdraw his candidacy and proposed Rajnath Singh's name. Mr Advani had earlier said no to Mr Singh too, but preferred him or "any candidate" to Mr Gadkari, sources said. At a function soon after, Mr Gadkari and Mr Advani shared stage. The two hardly spoke - Mr Advani has been the loudest voice in the campaign to have Mr Gadkari replaced.
Mr Advani had earlier reportedly suggested that Sushma Swaraj be made the next president of the party, but it was decided that frontline leaders like her, Mr Jaitley and Gujarat Chief Minister Narendra Modi should not be pulled out of their current roles, sources said.
Mr Gadkari has dismissed the IT investigation centred around the Purti Group, which he founded in 2000, as an orchestration by the Congress-led UPA government to malign him. He said in his statement that, "the UPA government has been making an effort to spread disinformation about me in order to hurt me and my party. I have always said that I am willing for any independent enquiry. I shall fight these efforts of this government both politically and legally."
Income tax officials yesterday visited eight different locations in Mumbai linked to 24 different firms that invested in or did business with the Purti Group. Sources say the addresses listed for the firms were bogus, proving that they were ghost investors.
Get Breaking news, live coverage, and Latest News from India and around the world on NDTV.com. Catch all the Live TV action on NDTV 24x7 and NDTV India. Like us on Facebook or follow us on Twitter and Instagram for latest news and live news updates.