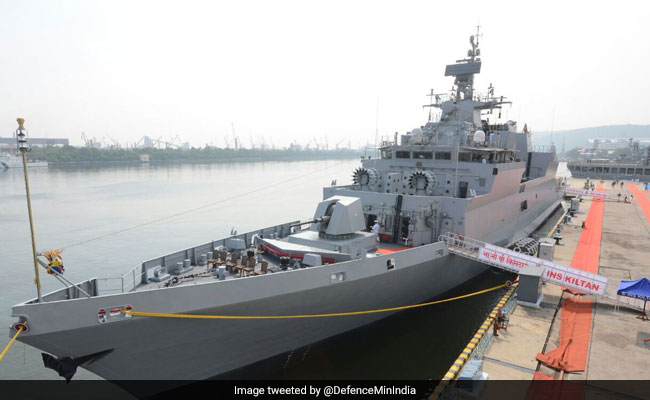 Vishakhapatnam:
INS Kiltan, a Made-In-India anti-submarine warship, was commissioned into the Indian Navy today by Defence Minister Nirmala Sitharaman. Naval Chief Admiral Sunil Lanba and several top officers were present in the ceremony held at the naval dockyard in Visakhapatnam.
Here are 10 points on INS Kiltan
This is the third of the four Kamorta-class corvettes being built under Project 28 of the navy, approved in 2003. The ship has a team of 13 officers and 178 sailors led by commanding officer Naushad Ali Khan.

The ship is 109 meters long and 14 meters at the beam. It is propelled by four diesel engines to achieve speeds more than 25 knots with an endurance of 3450 nautical miles.

It has been designed by the navy's in-house Directorate of Naval Design and built by Garden Reach Shipbuilders and Engineers in Kolkata.

The navy said in its statement on INS Kiltan: "The country is becoming self-reliant through indigenisation, thus, accentuating our national objective of 'Make in India'."

INS Kiltan is the latest Make In India warship after Shivalik Class, Kolkata Class and sister ships INS Kamorta and INS Kadmatt, to join the Indian Navy's arsenal.

It is India's first major warship to have a superstructure of carbon fibre composite material, which gives improved stealth features and maintenance costs.

The ship has mostly homemade cutting-edge weapons including heavyweight torpedoes, ASW rockets, 76 mm caliber Medium Range gun and two multi-barrel 30 mm guns.

It also has dedicated fire control systems, missile decoy rockets, advanced Electronic Support Measure system, advanced Sonar and air surveillance radar Revathi.

The ship derives its name from one of the islands in Lakshadweep.

According to the navy, it boasts of the proud legacy of the Petya Class ship of same name - Kiltan (P79) - built in the USSR. The ship, which was in service from 1969 to 1987, participated as Task Force Commander in the 'Operation Trident' during the 1971 Indo-Pak war.