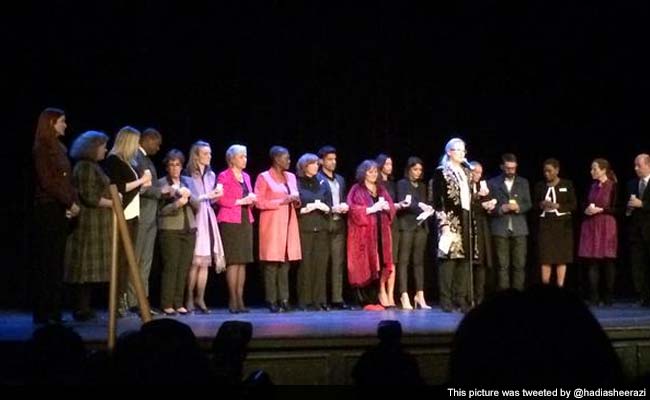 New York:
A BBC documentary, depicting the brutal gang-rape and murder of a young paramedic student in Delhi in 2012, premiered in the United States on Monday with actors Meryl Streep and Frieda Pinto attending the event in New York as a show of support for the film that has been banned in India.

Talk show host Tina Brown, former UN Under Secretary-General for Humanitarian Affairs and Emergency Relief Coordinator Valerie Amos and actor-filmmaker Farhan Akhtar were among others present at the premiere of the documentary 'Storyville: India's Daughter' made by British filmmaker Leslee Udwin.

"What is worse than brutality that dehumanises women? Tolerance and indifference towards it, acceptance that this is just the way things are. What is worse than rape, violence, cruelty? Tolerance for it. That's worse," Ms Streep said to a packed theatre at the Baruch College of the City University of New York where the premiere was held.

The Oscar-winning actor was joined by other celebrities and activists on stage as they lit a candle in honour of the 23-year-old student who died days after she was brutally gang-raped by six men on a moving bus on December 16, 2012. The woman came to be known as "Nirbhaya" or fearless, and became a symbol for India's fight to check crimes against women.

"For weeks after her death, she was nameless, she was known as India's daughter. Tonight, she is our daughter too," Ms Streep said.

"Tonight is the start of the global campaign for India's Daughter to end violence against women," Ms Udwin said as she called on her family and her team on stage to thank them for the efforts that went into making the documentary.


"Let us imagine a world where women are autonomous without rape, violence, genocide. Now let's go get that!"
"Change of mindset is the biggest ask we can make. You can move mountains with a film. The disease is not rape or violence or trafficking, the disease is gender inequality. Let us not let one day pass without doing something to address gender inequality," the filmmaker added.
Actor Frieda Pinto said there was need for leaders of democracies like India and the US to "face the dark reality of sexual violence."
"The shame is not in admitting the existence of such violence, the shame is in the crime and in not speaking out," the 'Slumdog Millionaire' actor said.