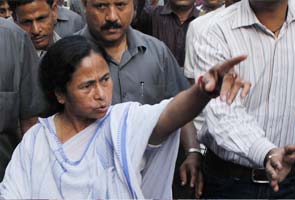 Kolkata:
Mamata Banerjee has called the controversy over a newspaper ban in libraries a small matter and the handiwork of a 'mischievous section'. But she has partially bowed to public pressure and included one English daily to the list of newspapers state-run libraries may keep.
"It is a small matter. It has become an ego issue for some. It is very unfortunate, unfair. A systematic move to malign our government. One mischievous section is playing a dirty game," the West Bengal Chief Minister said.
A government circular on 14th March had limited the number of papers to eight. These were -
1.
Sangbad Pratidin
(Bengali)
2.
Sakalbela
(Bengali)
3.
Ek Din
(Bengali)
4.
365 Din
(Bengali)
5.
Dainik Statesman
(Bengali)
6.
Azad Hind
(Urdu)
7.
Akbar-e-Masriq
(Urdu)
8.
Sanmarg
(Hindi)
There was not a single English newspaper on that list, nor Bengal's leading vernacular papers like the
Ananda Bazaar Patrika
or the
Bartaman
.
The move had resulted in a storm of protest by opposition parties like the CPM and the civil society which called the move fascist. Following the uproar, five more newspapers have been enlisted via a new circular that will be formally issued on Friday. Besides the one newspaper in English, there is now another Bengali paper on the list, a Nepali paper, a paper in the Santhali language,
Olchiki
, and a Bengali weekly that is shortly going to launch a daily paper,
Kalam
.
Mamata Banerjee said her government's policy is to promote smaller newspapers which needed help to establish themselves. "This is the affair of a small department (Library Services). Its budget is only Rs 19 crore. From this books and newspapers have to be bought. Therefore we have to pick and choose. We cannot buy 200 newspapers. We will promote small newspapers."
She added, "If large newspapers can determine what price they will be sold and what its content will be, then the people's government also has its rights,".
Meanwhile, a Public Interest Litigation has been filed in Kolkata High Court against the restriction of newspapers in public libraries.