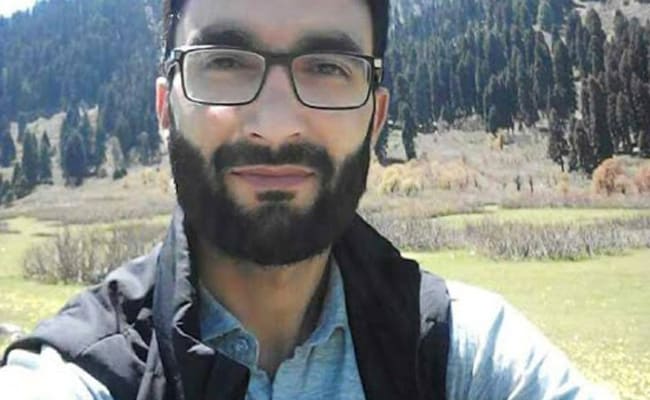 New Delhi:
Mohammad Rafi Bhat, a sociology professor at the University of Kashmir, left the school at around 3:30 p.m. Friday, telling his students he was starting a new job. By Sunday, he was dead.
Rafi, 32, had left his cushy life as an academic to join a terror group. On Sunday, Indian troops cornered him in a village in southern Kashmir.
The professor's turn to militancy and quick death have shocked many in the conflict-torn region of Kashmir, where militants primarily come from less-privileged backgrounds. Rafi, who held a PhD and had a strong academic record, may have been the most educated militant to be killed in almost three-decades of strife in Kashmir, according to local reports.
"It has surprised us and it has also frightened us." said Gull Wani, one of Rafi's colleages at the University of Kashmir, of the professor's decision to join the militants. "There was already a sense of hopelessness in Kashmir, but now I think that has deepened. You fear for your students, for your own son."
Muslim-majority Kashmir has long been caught in a tug of war between India and Pakistan, sparking violent separatist movements in the region. India's government blames Pakistan for sponsoring terror in Kashmir, while Pakistan has accused India of human-rights abuses against Kashmiris.
Protests and clashes often increase during summer months, but the violence in the region has been particularly bad since militant Burhan Wani - a social-media star who was popular among Kashmir's youth - was killed by Indian troops in 2016.
"This summer might be more violent than the previous years as there has been an uptick in recruitment among local militants" said Anit Mukherjee, an assistant professor at the S. Rajaratnam School of International Studies in Singapore.
Rafi's recruitment is a particularly alarming sign of that trend, said Omar Abdullah, a chief minister of the state of Jammu and Kashmir, speaking to reporters in Ladakh on Sunday. "When educated and gainfully employed young men choose the path of militancy, it should serve as a wake-up call for those who have turned a deaf ear towards repeated pleas for initiation of dialogue with all stakeholders to find a solution to this quagmire," he said.
Abdul Rahim Bhat, Rafi's father, said he had feared his son would be recruited by terror groups after two of his cousins died attempting to join the militants in the early 1990s. He said he had hoped that giving his son an education and career prospects would keep him away from such organizations. "But I think somehow my efforts failed," Abdul Rahim said, speaking to Indian news website FirstPost.
Rafi delivered his last lecture on Friday morning and told his students that he was leaving to take up a new teaching job. The students gave him a wristwatch as a parting gift, which he posted about on Facebook. "Gift from my students. I will remember your love and respect... Allah bless you all," he wrote.
The next day, he went missing.
Then, on Sunday morning, Rafi called his father and told him that he had become a militant. He was trapped with others in the village of Badigam, where a standoff with security forces was underway. Abdul Rahim also reportedly received a phone call from authorities, asking if he could convince his son to surrender. Police told local media that Rafi wanted to surrender, but was unable to because of the other militants with him, who included top commanders of terrorist group Hizbul Mujahideen.
Rafi and four other militants were killed by Indian army troops.
Dr. Sheikh Showkat Hussain, a Kashmiri analyst, said Rafi's decision to join the militancy reflected deep-seated resentment against the Indian government among Kashmiri youth. "There has been a change in the minds of youth," he said. "They think mass mobilization can't work. It is the gun that will get freedom."
(Except for the headline, this story has not been edited by NDTV staff and is published from a syndicated feed.)