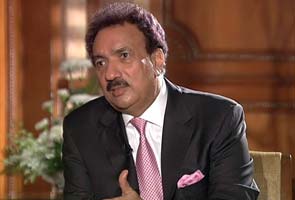 New Delhi:
A day after his comments on Babri Masjid triggered intense anger and criticism, Pakistan's Interior Minister Rehman Malik today denied comparing the demolition of the shrine to the Mumbai attacks, adding that he had been "misunderstood".
The minister, who is on a three-day trip to India, had yesterday equated - as was widely perceived - the demolition of the mosque to the 26/11 carnage and other terror strikes, much to New Delhi's surprise. "We do not want any 9/11. We do not want any Bombay blasts, we do not want any Samjhauta Express, we do not want any Babri mosque issue...Let us forget the past and move ahead," Mr Malik had said, while addressing the media with Home Minister Sushil Kumar Shinde in New Delhi.
Today, the minister swiftly moved to contain the damage. "I never compared the demolition of the Babri Masjid to 9/11 or the Mumbai attacks...I want people of India to know my statements have been misunderstood... When I mentioned Babri Masjid, I was talking of inter-faith harmony in our region," Mr Malik told NDTV.
The visiting minister's controversial remarks, meanwhile, drew a sharp response from the Bharatiya Janata Party which termed it as very "unfortunate" and "provocative".
"It's strange and unfortunate that the Pakistani Minister with just the commencement visit, is seen to be commenting on the cross-border terrorism emanating from Pakistan, and in the same breath speaking in terms of domestic developments in India," said senior BJP leader Arun Jaitley.
The government, too, had taken a grim view of Mr Malik's statement yesterday. "I am happy that you assure us that you will do everything to bring the masterminds of 26/11 to justice, but Pakistan has failed to deliver," was Home Minister Shinde's prompt retort at a function to operationalise the new liberalised visa agreement between India and Pakistan was hastily brought to an end.
Mr Malik has been also been struggling to fend off another controversy - that of his remarks on Kargil martyr Captain Saurabh Kalia's torture. Yesterday, he had said that it was not clear whether the weather or bullets had killed Captain Kalia during the Kargil war of 1999. Following a furore over his comments, the minister told NDTV that he is willing to order an investigation into the case.
(Read)
His visit to India comes even as both countries introduce a new visa system that will make cross-border travel easier for businesspeople, tourists and religious pilgrims. But the talks with Mr Malik will focus extensively on the 26/11 attacks in Mumbai and India's demand for action against mastermind Hafiz Saeed, chief of the Jamaat-ud-Dawa.
(With PTI inputs)