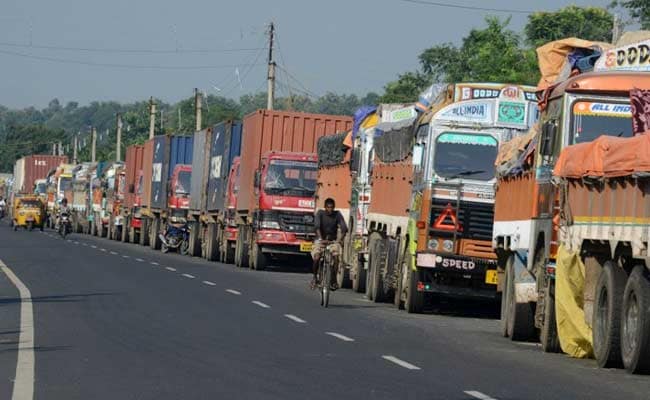 Kathmandu:
Over 100 trucks carrying essential goods and petroleum products today entered Nepal from India bringing some respite to the country grappling with shortage of fuel and other commodities due to the blockade of key trade points with India by protesters opposing new Constitution.
Several freight trucks, including some fuel tankers, which were stranded on the Indian side for over 11 days, entered the Nepali side through different border check-points.
Hundreds of trucks with shipments including medicine, gasoline and cooking fuel had been stranded at the border citing security concerns due to the ongoing Madhes agitation against the new Constitution.
Over 50 trucks today entered Nepal from Bhairahawa- Sunauli check point while dozens of trucks, including fuel tankers, entered the country from Biratnagar-Jogbani trading point.
Yesterday, 140 cargo trucks, six fuel tankers and two liquefied petroleum (LP) gas bullets had entered through Bhairahawa-Sunauli point.
However, obstruction continued in Raxaul-Birjung check point, the major entry point between Nepal and India, officials said.
The blockade at the Nepal-India border had made life harder for the people in Kathmandu and other major cities as five major check-points were closed for the last 11 days due to the protests.
India has dismissed suggestions that it has imposed any embargo against the supplies to Nepal and has maintained that the obstruction was due to protest and unrest in that country as Indian companies and transporters fear for their safety and security.
Meanwhile, Indian Ambassador to Nepal Ranjit Rae today paid a courtesy call to Prime Minister Sushil Koirala and discussed the issues relating to resumption of supply of fuel to Nepal, according to Nepalese officials.
In the meeeting, Ambassador Rae had assured him about easing the supply situation from today, according to state-run Nepal Television.
Nepal's Ambassador to India Deep Kumar Upadhyay has said that as the transportation has been disrupted for the past few days, it will take some time before flow of supplies to Nepal return to normal.
Meanwhile, the talks held between government team headed by Forest Minister Mahesh Acharya and the Federal Democratic Front led by Bijaya Kumar Gachhadar is heading towards positive direction, according to officials.
At least 40 people have died in over a month of clashes between police and protesters from the Madhesi and Tharu communities and ethnic minorities.
Madhesis are Indian-origin inhabitants of the Terai region bordering India who are opposed to splitting Nepal into seven provinces.