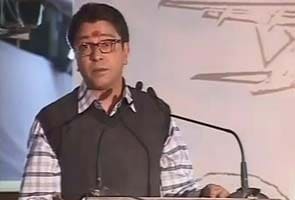 Pune/Mumbai:
Suspected Nationalist Congress Party (NCP) workers pelted stones at Maharashtra Navnirman Sena (MNS) chief Raj Thackeray's convoy in Ahmednagar district on Tuesday evening, police said. The workers also waved black flags.
The incident took place at around 8.30 pm at Bhingar in the Western Maharashtra district, about 125 kilometres from Pune, local Police Inspector Shankarrao Deshmukh told PTI by phone.
No injury was reported, he said.
Around 50 NCP workers had gathered at Bhingar, where Raj Thackeray was visiting for party-related work, to protest against his criticism of senior party leader and Deputy Chief Minister Ajit Pawar.
The MNS chief has been critical of NCP leaders at his recent public rallies. He has especially targeted Ajit Pawar, holding him responsible for the severe drought in the state.
According to Raj Thackeray, Water Resources Department, which Ajit Pawar headed between 1999 and 2009, had failed to take steps to prevent water scarcity despite spending huge amount of sums on irrigation projects.
Meanwhile, senior MNS leaders Bala Nandgaonkar and Shirish Parkar said in Mumbai they were unaware about the incident.