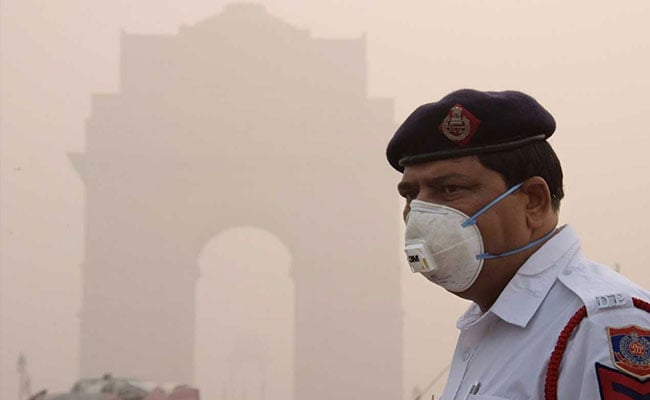 New Delhi:
With the Centre likely to notify the ambitious national clean air programme (NCAP) by the month-end, environment experts have suggested time-bound emission and sectoral targets, innovative financing mechanism and a regional approach among other things for the scheme to be effective.

The Environment Ministry has prepared a draft NCAP with an objective to come up with a comprehensive plan for prevention, control and abatement of air pollution, and to augment the air quality monitoring network across the country. Various green groups have submitted their recommendations to the ministry on the draft.

Union Environment Secretary C K Mishra had said that the notification of NCAP "should be done soon, say, by the end of this month".

While one of the experts said the NCAP process will also require rigorous assessment of all city plans to judge their level of stringency and scale of action to achieve the reduction targets, another stressed that the draft NCAP had missed to include many polluted cities across the country and that should be included.

Anumita Roychowdhury, executive director (research and advocacy) and head of CSE's air pollution programme, told PTI there is a long impatient wait for NCAP to get notified while there is also a deep suspense about its level of ambition to meet clean air targets and also how it is likely to respond to the public comments gathered so far.

"The current draft needs several revisions to be robust. Even though NCAP aims 'to meet the prescribed annual average ambient air quality standards at all locations in the country' and reduce air pollution by '35 per cent within next three years and 50 per cent in the next 5 years' it has not included any mechanism for compliance.

"Targets do not work without compliance framework. This is clearly evident from the fact that even though national ambient air quality standards are notified under the Air (Prevention and Control of Pollution) Act, 1981, there is no mechanism to make it obligatory for cities to meet them," she said.

She added that earlier the 12th Five-Year Plan had also recommended cities to meet air quality norms by the end of the plan period but that never happened as it had not defined the compliance mechanism.

In February, Union Environment Minister Harsh Vardhan had said that the ministry hoped to bring down air pollution in around 100 non-attainment cities by 50 percent in the next five years under the NCAP. Non-attainment cities are areas with air quality worse than the National Ambient Air Quality (NAAQ) Standards.

According to Ms Roychowdhury, it is important to learn from the recent initiative of Delhi and NCR to notify both Graded Response Action Plan and Comprehensive City Action Plan under section 3 and 5 Environment Protection Act 1986, to make these plans legally enforceable.


"These plans have also fixed responsibility on agencies with time line for implementation. NCAP will not work if all cities do not notify the plans and adopt strong oversight, monitoring and deterrence system," she said.
The key components of the NCAP include city-specific air pollution abatement action plan for 100 polluting cities of the country increasing the number of monitoring stations, data dissemination, public participation on planning and implementation.
The other components include setting up of air information centre for data analysis, resource apportionment studies, national inventory and rural monitoring stations, besides guidelines for indoor air pollution.
"The NCAP process will also require rigorous assessment of all city plans to judge their level of stringency and scale of action to achieve the reduction targets. NCAP must also shed its skepticism about existing health studies and adopt health cost benefit indicators to prevent escalation in health risk.
"Longer term real change is possible if NCAP also adopts innovative financing mechanism to rake in the moolah to back up the intent. Given the magnitude of disease burden due to air pollution in India, NCAP cannot degenerate to be a minimalist and business as usual programme," Ms Roychowdhury said.
Greenpeace India's Sunil Dahiya said that NCAP should be the ultimate framework to "ensure compliance to our commitment towards tackling air pollution from all the source and without time bound emission and sectoral target, it will be ineffectual".
"One of the concerns that is most likely to be unresolved was NCAP draft was in one language that has restricted the impacted geographies to be a part of the process for even commenting on the draft. We anticipate that ministry had taken a cognisance and factored in the concerns of local civil society organisations," said Mr Dahiya, senior campaigner at Greenpeace India.
He said the NCAP draft by the ministry had missed out on articulating interim milestones for completing source apportionment studies to reduce 35 percent and 50 percent pollution in three and five years respectively. He pointed out that NCAP also needs to have clear interim milestones for all the activities its proposing like city wise action plans.
"For the NCAP to be effective, it has to take a regional approach and emissions from industry and power sectors have high impact at the regional level and not at a city level. To tackle long ranging pollutants, it will be crucial to have detailed plan on sectors outside city limits," Mr Dahiya said.