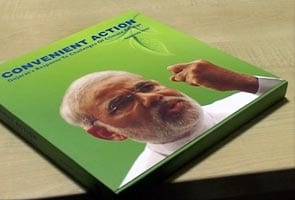 New Delhi:
As a state head, every Chief Minister ought to take steps to fight climate change. But Gujarat Chief Minister Narendra Modi seems to have taken his responsibility a bit too seriously.
Going the Al-Gore way, Modi has written a book called 'Convenient Action: Gujarat's Response to Challenges of Climate Change'. To be released next week, the book runs into 250 pages. It is Modi's first book in English and has been published by Macmillan Publishers.
"Under the leadership of Narendra Modi, Gujarat has effectively handled a lot of issues and they have provided solutions. So this book is purely about climate change and how Gujarat has responded," says Sanjay Singh of Macmillan Publishers.
The book release function on December 21 will be presided over by former President Dr APJ Abdul Kalam.
Praising Modi's move, Dr RK Pachauri, the chief of Inter-governmental Panel on Climate Change (IPCC), said, "I am very happy that Narendra Modi has written this book. I haven't seen it but the very fact that he's focussed on this is worth praising." Pachuri will be the chief guest at this function.
With this book, 'green crusader' Modi has become the second politician in the world, after former US Vice-President Al Gore, to pen a book on climate change.