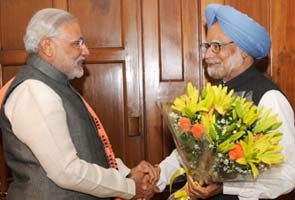 New Delhi:
Narendra Modi is not at the Kumbh mela today, where his party, the BJP, is putting together its refurbished Hindutva strategy. He has just met the Prime Minister in the capital and will soon address students at one of India's top colleges on 'emerging business models in a global scenario'.
The Gujarat Chief Minister was picked by students of the Sri Ram College of Commerce (SRCC) over other potential speakers in a poll. For Mr Modi that will be crucial validation of his elaborate efforts at an image makeover in the past few years - from hardline right-wing politician to suave and efficient administrator scripting good governance in his state.
At SRCC, a large poster of Mr Modi and his scheduled talk has pride of place. At the Kumbh mela in Allahabad, Vishwa Hindu Parishad workers dismantled posters put up by Mr Modi's supporters proclaiming him the BJP's best bet for the post of Prime Minister in 2014. The RSS and its affiliates are said to be torn over the Modi-for-PM question.
Even among the very young, Mr Modi evokes extreme reactions. Many SRCC students are excited at a chance to interact with him. "Modi is a bigshot in politics. Everybody wants a piece of him right now. He's been Chief Minister for three terms. If you look at the Gujarat growth story, it's growing at a tremendous rate. Infrastructure growth has been impressive...He's an excellent economist, a great administrator, a man who stands by his decisions. He's not scared of the consequences," says a student, Palash.
Another student says, "I don't remember being more excited about anyone else's talk."
SRCC expects a "jam-packed sports complex", where Mr Modi will make his address as part of a three-day business conclave at about 4 pm today. But all the questions that come his way may not be about good economics. Among those lining up to register is Arushi, who says she wants "to ask him questions about his past and whether he thinks what happened was right." A reference to the 2002 Gujarat riots and the shadow they still cast on Mr Modi's political career.
Krishna, another student says, "I can't reconcile with the past. The fact that he was involved in, let's say, anti-secular activities. But the development he's brought about in Gujarat is rather impressive."
A group of Left wing organisations have called for protests outside the college, but that does not bother students like Akash, who says, "He's not coming to talk about politics, he's going to talk about business. We're a commerce college."