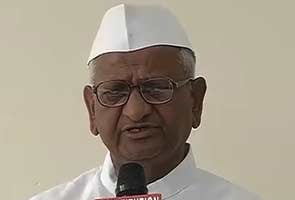 New Delhi:
Social activist Anna Hazare today said he has not praised Narendra Modi and nor has he said that the Gujarat Chief Minister is "not communal."
"I didn't say that Modi is not communal. I said that I can't say he is, as I don't have any evidence," the 76-year-old Gandhian said.
On Wednesday, the anti-corruption crusader was quoted as saying that there was no evidence of Mr Modi being "communal", a charge made by his political rivals. Today, Mr Hazare was at pains to explain that "I have never praised Modi."
In fact, said the social activist, "He (Mr Modi) is leading a party (the Bharatiya Janata Party) which is communal so that makes him communal too."
Mr Hazare, who says he shuns politicians of all hue, also said, "Be it Modi or Rahul Gandhi - the people of this country will not get the right prime minister until the people of the country decide."
Both Narendra Modi and Rahul Gandhi are seen by many in their respective parties, the BJP and the Congress, as the best choice to be projected as candidates for prime minister. Neither party has, however, named them.