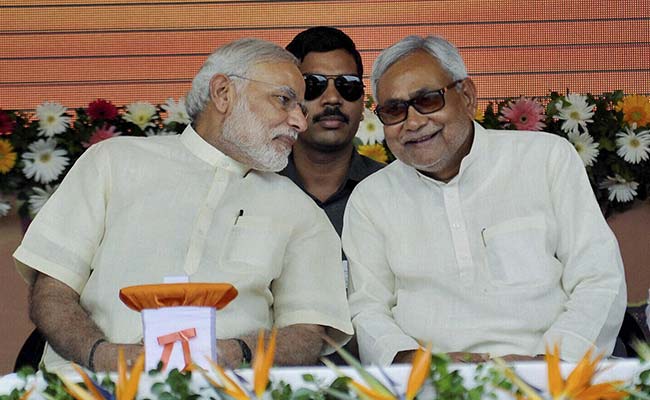 Patna:
Prime Minister Narendra Modi is in Bihar today where he
launched and attended the centenary celebrations of Patna University
. The country's seventh oldest university, standing on the banks of the river Ganga, completed 100 glorious years on October 1 and the administration held a simple function to mark the historic occasion. PM Modi will also launch projects worth Rs 5,000 crore including a bridge across the Ganga which costs about 1,200 crores. Soon after the celebrations, PM Modi headed to Mokama, about 96 km from Patna, where he launched about half-a-dozen schemes including projects under the 'Namami Gange' programme. It was also the first time since Chief Minister Nitish Kumar's exit from the Mahagathbandhan in Bihar and return to the NDA, that
he will share the stage with Prime Minister Narendra Modi
in Bihar.
Here are the highlights of PM Modi's first visit to Bihar since forming government in the state with Nitish Kumar:
PM Narendra Modi's Speech At Patna University For Its Centenary Celebrations
Here are the highlights of PM Modi's speech at Patna University:
I consider it my honour to visit Patna University and be among the students. I bow to this land of Bihar. This university has nurtured students who have contributed greatly to the nation.
In every state, the top levels of the civil services has people who have studied in Patna University. In Delhi, I interact with so many officials, many of whom belong to Bihar.
The commitment of Shri Nitish Kumar towards the progress of Bihar is commendable. We in the Centre attach topmost importance to the development of eastern India.

Bihar is blessed with both 'Gyaan' and 'Ganga.' This land has a legacy that is unique.


Bihar has the capability to be one of the most developed states in India If the people of Bihar decide to put an effort and work towards it.

Bihar has the blessing of goddess Saraswati... it can also get the blessings of goddess Lakshmi if it works towards it... Patna has contributed to knowledge and the civil services for many years. It should now move towards wealth creation and innovation. I am sure this won't be a difficult task for the people of Bihar, who have given us some of India's brightest minds.


Today, we cannot imagine that at least one in the top five posts in India isn't an alumni of this grand institution.

From conventional teaching, our universities now need to move towards innovative learning.


The seed of education was sowed in Patna a century ago... It has created this iconic institution.

Technology is changing the way of life... It is giving a new meaning to the way we live... It is important we embrace it.

Sometimes we are rigid and not open to change, but the key to success in life is to learn, unlearn and then relearn.

We must look at any situation and any circumstance with an open mind... Universities today must work towards helping students have an open mind... Being rigid only hampers growth and slows us down.

A nation seen as a land of snake charmers has distinguished itself in the IT sector. From playing with snakes, but today's children are playing with the mouse (computer)... Times are changing.

Living in an era of globalisation, we need to understand the changing trends across the world and the increased spirit of competitiveness. In that context India has to make its place in the world.
I urge youngsters to think about innovative solutions to the problems faced by people around you. Through what you learnt and the Start up sector there is a lot you can do for society.

Technology should be made available to the poorest of the poor and should be user-friendly. India already ranks fourth among all nations in terms of startups... The time is not far when India will rank number one in the world.


Another area of utmost importance to Bihar, and India at large is skill development.

India is a youthful nation, blessed with youthful aspirations. Our youngsters can do a lot for the nation and the world.