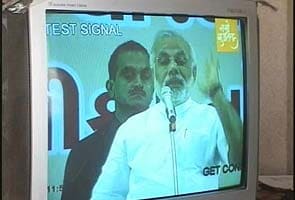 Ahmedabad:
Gujarat chief minister Narendra Modi rarely comes on television for interviews and news shows. But he is clearly not TV-shy - he's getting himself a cable TV channel solely dedicated to himself. Even the name is a combination of his own: NaMo Gujarat.
The channel, yet to be launched - and Mr Modi will flick the switch to "live" himself in a few days -- is timed to perfection for his election campaign that is moving into top gear. The channel is expected to be force multiplier for the campaign, showing his rallies and public meeting live across the state. His Vivekanand Vikas Yatra is already being shown live on four other Gujarati channels, with which NaMo Gujarat has tied up.
Gujarat holds assembly elections in December. Mr Modi's election pitch is centred around Gujarati 'asmita' - pride - and the combination of his name and the state as the label for the TV channel might well have been thought out as an extension of that.
It not yet clear who is paying for this channel. It is being set up by the state BJP.
In the previous election in 2007, Mr Modi has launched a TV channel that was distributed through internet connections, but it was found to be violating the law by the Election Commission.
The BJP wants to use the power of TV to make inroads into the south of the country as well. The party will launch a channel in Tamil Nadu on October 11. But it will have to make itself heard over the clamour that already exists on the airwaves in that state. The two major political parties, AIADMK which is in power and the opposition DMK, both have their own TV networks and as well as cable distribution. The AIADMK runs Jaya TV and the DMK Kalaignar TV.
Television sets are regularly offered in Tamil Nadu as an election promise to voters and are delivered as well.