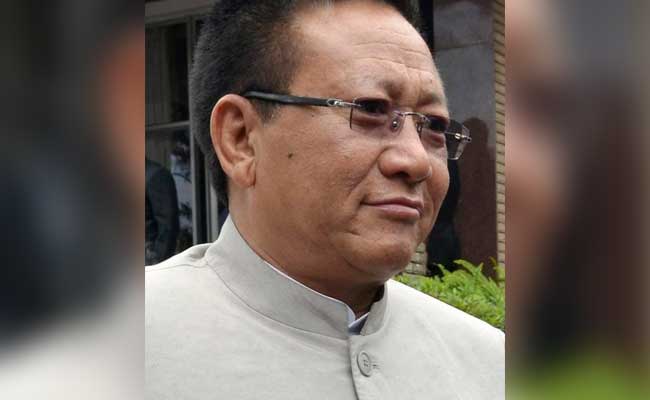 Kohima:
Dismissing the five-month-old government of Shurhozelie Liezietsu, Governor PB Acharya today appointed TR Zeliang, Naga People's Front (NPF) legislator, as Nagaland Chief Minister. Mr Zeliang, who took oath at Raj Bhavan today, has been directed to prove majority on the floor of the House on or before July 22.
The Governor invited Mr Zeliang, who was forced to quit as Chief Minister in February over tribals' protest, to form government after Mr Liezietsu did not show up for the floor test this morning.
Mr Liezietsu, who is facing a rebellion in his Naga People's Front Party, was ordered by Governor Acharya to face a floor test after his petition challenging it was rejected by the Gauhati High Court yesterday.
The court said, "The matter is left to the wisdom of the governor to take a decision on the same after proper application of mind." Hours later, the governor asked for an emergency special session for a trust vote.
Last week, Mr Liezietsu's predecessor TR Zeliang of the Congress staked claim to power and sent letters of support from 41 of the state's 60 lawmakers to the Governor. The rebel lawmakers were then whisked off to a resort 300 km away in Assam's Kaziranga National Park, where they are still staying.
Asked by the governor to prove his strength, Mr Liezietsu petitioned the court but failed to stall it.
Yesterday, his rival Mr Zeliang received support from the BJP, which partners the Naga People's Front in the government. Four BJP legislators and Nagaland BJP president Visasolie Lhoungu went with letters of support to the governor.
This morning, Mr Zeliang and the rebel lawmakers were waiting in the house but Mr Liezietsu was a no-show. He and the legislators supporting him allegedly didn't take calls either, after which the special session ended.
Sensing a rebellion, the Chief Minister had on July 9 sacked four of his six ministers and suspended a dozen lawmakers.
Mr Zeliang had quit as Chief Minister after large scale protests by tribal groups who were opposed to his move to hold civic polls with 33 per cent reservation for women.