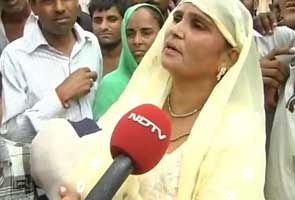 Muzaffarnagar:
When the Prime Minister accompanied by Sonia and Rahul Gandhi visited a refugee camp in Muzaffarnagar today, she was lost in the crowd.
Rabia Begum, 36, is grateful to not be counted among the 40,000 people who have fled their homes after communal violence ruptured this part of Western Uttar Pradesh just a few days ago. 48 people have been killed.
While returning from the local market to her village one evening after curfew had been lifted, Rabia heard a baby crying. In the canal nearby, a little girl was being licked by dogs.
She picked her up, bathed her, then took the infant to the local police station to see if anyone was searching for a new-born. No luck.
Today, with the baby wrapped in a quilt in her arms, Rabia visited the refugees in the village of Basikala Rabia nearby, hoping to find some clues that could trace the infant's parents.
Rabia has six children. The wife of a local zamindar, she has been helping out everyday at the refugee camp, where 4000 Muslims have sought shelter, too scared, they say, to return to their own villages where Hindu Jats are in the majority.
Rabia moves among the narrow rows of rugs, with the baby attached to her hip. She hopes the baby's parents will soon be found. Till then, she vows, the child will have a home with her.