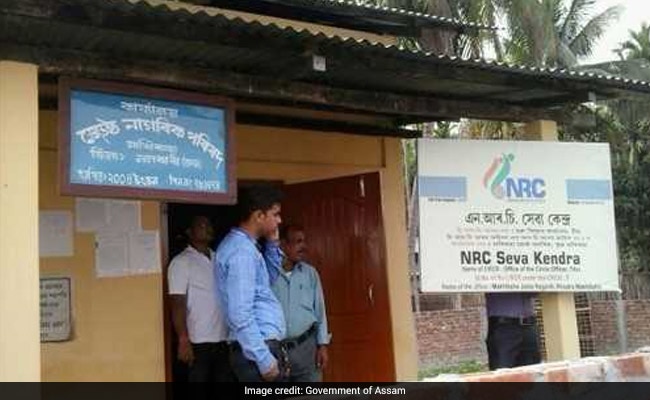 Nellie:
As we walk into Nellie, there is an uneasy calm. 39-year-old Ismail and 58-year-old Hamid are relatives whom we meet at a tea stall at Nellie daily market. They agreed to take us to their village. They lost six family Members in the 1983 ethic riots in this central Assam cluster of villages of Muslim settlers. Over 2000 people were massacred in Nellie during the Assam agitation against illegal Migrants from Bangladesh. Since then, many from Nellie have been marked as doubtful voters.
Mr Hamid was served notice thrice - in 2010, 2012 and 2016 - and every time the foreigners' tribunal declared him an Indian citizen. But he is still out of the draft of the National Register of Citizens.
"I am poor, illiterate and even my children are illiterate. Whatever little money I had, has been spent in court. I don't know how every time I am marked as a foreigner, even after winning cases. And now even NRC has dropped me," Mr Hamid told NDTV as he broke into tears.
Mr Ismail is confused. His entire family's names came in the part draft, but are now missing from the full draft.
"In the first list, all three names of our family came, so I thought in the full draft all names will be there. But no name came. I am completely confused as to why after clearing all verification in first round, we are dropped," he said.
Local Muslims, whose names were missing from the full draft, say their community is not alone in this struggle. A Bengali Hindu settlement of Partition refugees is facing similar problems.
"In the draft NRC in this area, about 80 percent Muslims names have come, but Bengali Hindus names are less than 60 percent," said Suleman Ahmed Qeshami, a local villager.
At a time when the Centre has proposed to give citizenship to Hindu refugees through the Citizenship Amendment bill 2016, the Bengali Hindus feel let down.
"The BJP government proposed to give citizenship to Hindu refugees, so we were sure that we would be in the NRC. But now we are let down" said Mantosh Trivedi, a villager from Nellie.
The Bengali Hindus in the area are complaining that only 30 percent of their community have found their names in the NRC despite their claims of possessing all valid documents.