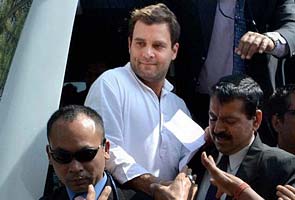 Lucknow:
Rahul Gandhi's statement that Pakistani agencies approached young Muslims who lost family members in the communal riots of Muzaffarnagar has been slammed by prominent clerics of the community as "most unfortunate".
Maulana Saif Abbas Naqvi, a Shia cleric, said the Congress leader's statement not only showed the Muslim community in poor light but also strengthened the hand of communal forces. "These are grave insinuations against millions of peace loving and patriotic Muslims in the country," he said.
He also alleged that Mr Gandhi was politicizing the suffering of riot victims instead of understanding their pain.
The communal clashes last month in the aftermath of the killing of two Jats and one Muslim in a village, left nearly 50 dead and over 40,000 homeless in Muzaffarnagar.
Clerics like Shahar Qazi, Maulana Abul Irfan and Miyan Farangi Mahali called Rahul Gandhi's comment "most unfortunate" and demanded an "immediate and unconditional apology" from the Congress leader.
"It does not suit leaders of a national party like the Congress to make such cheap and hurtful statements against Muslims...we are patriotic and would do anything for India," they said in a statement.
Maulana Kalbe Sadiq, senior vice-president of the All-India Muslim Personal Law Board, said anyone who cast aspersions on the integrity and loyalty of the minority community was doing great disservice to the country.