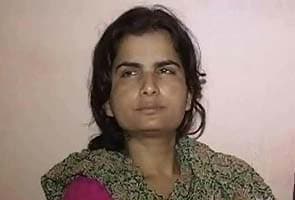 Deoria:
The widow of murdered police officer Zia-ul-Haq has refused to accept the job offered by the Uttar Pradesh government, saying that she would not accept anything other than the post of a Deputy Superintendent of Police (DSP).
Parveen Azad, who has been maintaining distance from the media, today told the visiting leader of Loktantrik Congress Harishanka Tewari that she would not accept any job less than the rank of DySP.
Vowing to continue her struggle, Ms Azad said that she was not fighting for herself but to ensure that no one dared to raise a hand on those donning the khaki uniform.
She also demanded that the policemen who deserted her husband in Kunda area of Pratapgarh on the fateful night should be tried for treason.
Last night, the wife of slain DSP Zia-Ul-Haq was appointed as Officer on Special Duty (OSD) Welfare by the state government. The brother of the murdered officer was also appointed as constable.
The appointment letters were also sent to the family by the district administration today.
Uttar Pradesh Chief Minister Akhilesh Yadav had promised government jobs to two members of the police officer's family when he visited Deoria to meet them earlier this week.
Mr Haq, circle officer in Kunda from where Raja Bhaiya is a five-time MLA, was allegedly killed by a mob in Balipur village last Saturday when he had rushed there following the murder of a village head man. The latter was shot dead over a land dispute.
The slain officer's wife has alleged that Raja Bhaiya, who resigned from the state Cabinet after a First Information Report (FIR) was filed against him, had a hand in the attack.