Mumbai:
Mumbai is bracing for more showers and a heavy rain alert has been issued in the city. It has been raining in the financial capital for the past two days, leaving its roads waterlogged and traffic movement affected. Mumbai's Powai Lake overflowed yesterday. Maharashtra Chief Minister Eknath Shinde, who visited the civic body's disaster control room, said 3,500 people had been shifted to safer places from flood-prone areas.
Here are the Highlights on Mumbai rain:
Get NDTV UpdatesTurn on notifications to receive alerts as this story develops.
Maharashtra Chief Minister Asks Authorities To Remain Alert, Ensure No Loss Of Life
With parts of Maharashtra, including capital Mumbai, witnessing heavy rains, state Chief Minister Eknath Shinde on Wednesday chaired a meeting of the officials, where he asked them to remain alert and take necessary steps to ensure that there is no loss of life during the monsoon.
He also directed the railway authorities and the Mumbai civic administration to appoint a nodal officer for coordination between them and for dissemination of information about water-logging and disruption of suburban train services in Mumbai during the ongoing rainy season.
Heavy Rain Continues In Mumbai, 3 Hurt In Landslide
Three persons were injured in a landslide in Mumbai which continued to get affected by heavy showers for the third straight day on Wednesday, resulting in water-logging at many places and traffic disruptions, while the Maharashtra government asked officials to remain vigilant and take steps to avoid loss of lives in the metropolis and other rain-affected areas of the state.
Mumbai Rains Live Updates: 2 Injured, 3 Houses Damaged In Mumbai Locality
Two persons received minor injuries while three houses were damaged near Chunabhatti Nagoba Chowk in Mumbai due to rain-related incidents.
Mumbai Rain Live Updates: Waterlogging At 25 Locations In Mumbai
Waterlogging has been reported at 25 locations across Mumbai today due to heavy rainfall. BEST buses are being diverted due to waterlogging.
Maharashtra Rain Live Update: Landslide Near Pratapgadh Fort In Satara District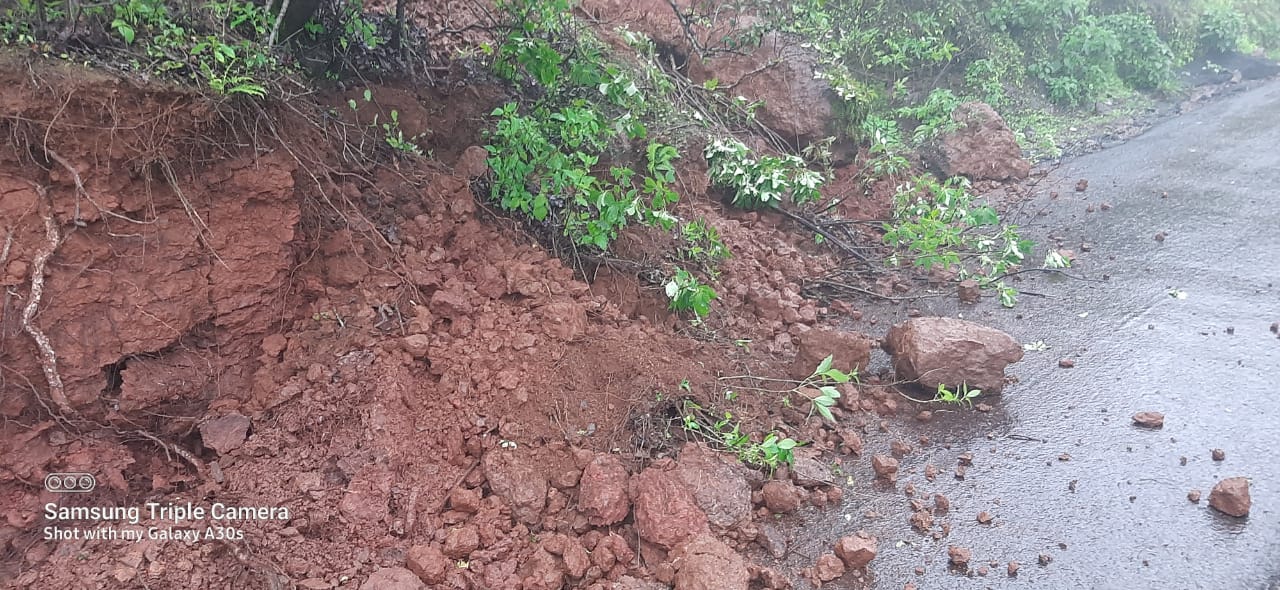 A landslide was reported on the road approaching the Pratapgadh Fort in Maharashtra's Satara district. The incident occurred early morning due to heavy rain. The road is now closed. There was no report of any casualty and no one was trapped in the debris, Public Works Department's executive engineer Sanjay Sonawane said.
Mumbai Rain Forecast At 8 AM - Live Updates
The weather office has predicated moderate to heavy rainfall in Mumbai and its suburbs today. There is a possibility of very heavy to extremely heavy rainfall at isolated places.
Today's High Tide: 1649 hours - 3.88 metre
Today's Low tide: 2311 hours- 1.66 metre
Mumbai Rain Live Updates: Powai Lake Overflows
Mumbai's Powai Lake began overflowing last evening amid heavy rains for the past couple of days, a civic official said. The lake has a storage capacity of 545 crore litres and started overflowing at 6:15 pm, said the official. "However, water from the lake is not potable and is used for industrial purposes. It had overflown on June 12 last year. When the lake is full, the water area is around 2.23 square kilometres, while the catchment area is 6.61 square kilometres," he said. (PTI)
Mumbai Rain Live Updates: Man Drowns In Water-Filled Quarry, Search On For Another
One person drowned in a water-filled quarry in Mumbai's Dahisar East area while on a picnic on Tuesday evening and search was underway for another, a police official said. A group of seven youths, all in their mid-20s, from Gorai in Borivali suburb had gone to the quarry in Vaishali Nagar for a picnic amid heavy rains, he said. A fire brigade official said the man who body was fished out from the quarry was identified as Shekhar Pappu Vishwakarma (19). (PTI)