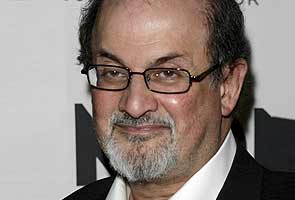 Mumbai/ Jaipur:
Salman Rushdie declared in a statement yesterday that he would not attend the Jaipur Literature Festival because he has been informed by intelligence sources in Maharashtra and Rajasthan that "paid assassins from Mumbai underworld might be on their way to eliminate" him. But sources in Mumbai Police have now told NDTV that they gave no inputs about any "paid assassins" to the government.
In his statement, Rushdie had said he would not attend the five-day event because of security concerns, not just his own but for others at the festival. "While I have doubts about these intelligence inputs, it would be irresponsible for me to come and endanger the life of fellow authors and others," the 64-year-old author said.
Muslim clerics had warned of protests against Mr Rushdie; they say his book, The Satanic Verses, is blasphemous. As organizers read out his statement in Jaipur on Friday, Mr Rushdie tweeted, "Very sad not to be at jaipur. I was told Bombay mafia don issued weapons to 2 hitmen to 'eliminate' me. Will do video link instead. Damn."
Three hours after the organisers read out Mr Rushdie's statement, there was more controversy. In protest against the government's alleged failure to take a stand on Mr Rushdie's visit, writers Hari Kunzru and Amitava Kumar tried to stage a protest by reading extracts from The Satanic Verses, Mr Rushdie's 1988 book that remains banned in India. They were stopped. Once again using Twitter, Mr Rushdie asked, "@vikasbajaj: .@amitavakumar says organizers asked him not to continue reading from Satanic Verses." Willie, Sanjoy: why did this happen?"
The controversy over Mr Rushdie's scheduled appearance began when an Islamic seminary in Uttar Pradesh, the Darul Uloom Deoband, asked for his visa to be cancelled. The Booker Prize winner responded on Twitter that he doesn't need a visa because he has a Person of Indian Origin status, which allows him to travel freely to India. Mr Rushdie has made several personal trips to India in recent years. He also attended the 2007 edition of the Jaipur Literature Festival, without any protests.
Critics have accused the government of capitulating to hardliners by failing to publicly reassure Mr Rushdie that he would be protected in India. The government's silence is attributed by many to the UP elections. 18% of the population here is Muslim, and no political party has risked siding with free speech or Mr Rushdie.
"The book has been banned and if somebody tries to do this then they may have to bear the consequences," said Congress spokesperson Abhishek Manu Singhvi.
The Congress government in Rajasthan had said it was worried about the implications of Mr
Rushdie's visit. Rajasthan Chief Minister Ashok Gehlot said that no state government could afford to ignore the potential law and order consequences of a controversy like this.
"We could have done whatever was required from us and we could have ensured the safety and security of the person coming here, the event and the organisation as a whole," BL Soni, Jaipur Police Commissioner, said.