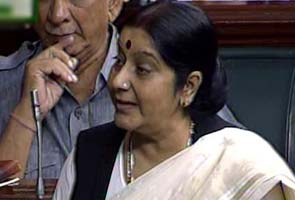 New Delhi:
The gang-rape of a young photographer in Mumbai was raised in Parliament today with senior BJP leader Sushma Swaraj demanding the death sentence for the five men arrested for the barbarous attack which has triggered outrage across the country.
Home Minister Sushil Kumar Shinde said that he wanted to assure Parliament that the arrested men will be prosecuted quickly. The Maharashtra government has promised a fast-track trial for the case, as requested in a moving appeal issued on Sunday evening by the photographer' family.
"Hang them, and the incidents will stop," said Ms Swaraj. "On one hand, women in India are winning gold medals, on the other side we have such crimes against them," she said. "Let's not just make laws, let's implement them," she urged, referring to tougher laws introduced earlier this year after a 23-year-old medical student was fatally gang-raped on a moving bus in Delhi. The new laws provide for increased punishment for sex offenders, who face the death penalty if a victim dies, and a broader definition of sexual assault.
The survivor of last week's attack in the heart of Mumbai at a deserted textile mill is recovering in hospital. She was on assignment with a male colleague, who was tied up with belts to prevent him from defending her.
The survivor said over the weekend that she is keen to return to work. "Rape is not the end of life," she said.
Police arrested the fifth suspect Sunday in Delhi after rounding up the other four in Mumbai.
"We will file a comprehensive charge sheet soon," said Mumbai's police commissioner, Satyapal Singh, assuring that police had the evidence to prosecute the suspects, including the victim's testimony and medical samples taken at the hospital after the assault.