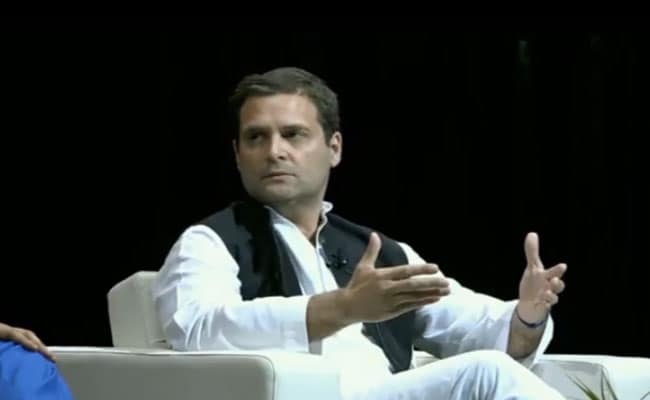 New Delhi:
The Congress today put its weight behind farmers and tribals protesting in Mumbai, as party president Rahul Gandhi urged Prime Minister Narendra Modi and Maharashtra Chief Minister Devendra Fadnavis "not to stand on ego" but to accept the demonstrators' "just demands".
The massive farmers' march to Mumbai was a "stunning example of people's power," Mr Gandhi said on Twitter.
The Congress, he added, stood with farmers and tribals marching in protest against the "apathy" of the Central and state governments.
"I appeal to PM Modi and the CM to not stand on ego and to accept their just demands," Mr Gandhi tweeted.
At the AICC briefing, Congress communications in-charge Randeep Surjewala and party spokesperson RPN Singh alleged that the peasant community in every state was agitating against the Modi Government and that farmers' suicides had risen by 41.7 per cent under the Modi regime.
Accusing the BJP government of countering farmers with "
lathis
" (sticks) and "bullets", the party said this was not the first instance of their anti-farmer attitude and showed the "real face" of the BJP.
"This government is forcing farmers to commit suicide and befooling them on farm loan waivers," Surjewala told reporters.
There has been a 41.7 per cent rise in farmer suicides under the Modi Government and Maharashtra tops the list of such deaths, Mr Surjewala said, quoting National Crime Records Bureau data.
On an average, 47 farmers committed suicide every day in 2017, he claimed.
From January 1 to October 31, 2017, there were 2,414 farmer suicides in Maharashtra alone, he added.
"While on the one hand the Central government is waiving thousands of crores of rupees in loans taken by their industrialist friends, it is apathetic to the demands of farmers for loan waivers. Consequently, around 50,000 farmers are marching in protest in Mumbai to gherao the Maharashtra Assembly," Mr Surjewala said.
The Modi government was shedding "crocodile tears" for farmers and had inflicted a "double whammy" on farmers, with agri-exports reducing and imports rising, he said, citing figures.
He also alleged that the government had imported 57.5 lakh tonnes of wheat and 606 lakh tonnes of pulses, despite enough domestic production to cater to demands.
"The Modi government is anti-farmer, and that is the slogan resonating among farmers across the country," Mr Singh added.
Chief Minister Devendra Fadnavis said today his government was "sensitive and positive" towards the demands of farmers and tribals, who marched from Nashik to Mumbai to draw the administration's attention towards their problems.
Mr Fadnavis was responding to a discussion in the Assembly, initiated by Leader of Opposition Radhakrishna Vikhe Patil, who lauded the farmers for their peaceful protest.
The Azad Maidan in South Mumbai turned into a sea of red this morning as thousands of farmers, carrying red flags, converged there after walking around 180km from neighbouring Nashik district over the last six days.
The farmers demand an unconditional loan waiver and transfer of forest land to tribal farmers who have been tilling it for years.
The CPI(M)-affiliated All India Kisan Sabha is spearheading the protest.
The Shiv Sena has also lent its support to the farmers' stir.