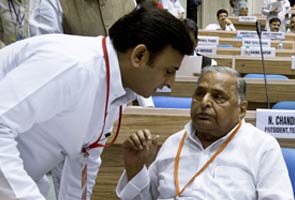 New Delhi:
The government today withdrew a controversial ordinance to protect convicted law-makers, a decision driven largely by its vice-president Rahul Gandhi. An important ally, the Samajwadi Party, said it disagrees with the change in policy.
"This is the first time that the government has taken a u-turn," said Samajwadi leader Naresh Agarwal. His party, headed by Mulayam Singh Yadav, does not participate in the centre, but props up the minority government. Mr Agarwal had earlier said that cancelling the ordinance would signal that the Prime Minister's authority is limited, since his cabinet had cleared the policy.
"If the ordinance is taken back, it will prove that in this country an individual is bigger, not the government," said Mr Aggarwal, in an apparent reference to Rahul Gandhi, whose public denouncement of the ordinance as 'nonsense' forced his party to abandon its earlier stand.
Earlier today, Akhilesh Yadav, who is the chief minister of Uttar Pradesh and whose father heads the Samajwadi Party, said that the Congress was discarding the ordinance, cleared more than a week ago by the cabinet, in an attempt to find favour with voters ahead of the national election, due by May.
"The manner in which the ordinance was brought and is now being hurriedly withdrawn, shows that decisions are being taken keeping elections in mind. Because of the election, all ruling political parties are in a hurry," he professed.
The ordinance was widely criticized by the opposition and the public as a blatant attempt to circumvent a Supreme Court order which disqualifies law-makers convicted in criminal cases. The ordinance said that parliamentarians could remain in office without voting rights and a salary till their appeal against the conviction was heard.