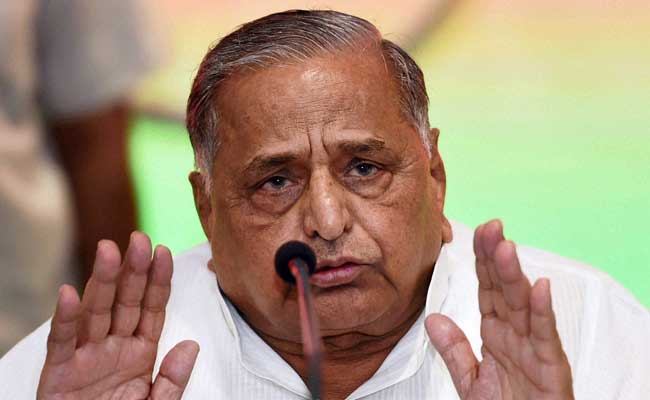 Lucknow:
Amid the festering family feud, Samajwadi Party patriarch Mulayam Singh Yadav Tuesday visited offices of both his party, now headed by his son Akhilesh Yadav and the newly-floated rebel outfit of his brother Shivpal Yadav, leaving his party workers wondering where his sympathies lie.
At the function of his brother Shivpal Yadav's outfit, Pragatisheel Samajwadi Party (Lohia), the senior Yadav was even requested by his brother to become his new party's prime ministerial candidate.
Coming barely a month after his second son Prateek Yadav's wife Aparna Yadav openly expressed her support to uncle Shivpal Yadav, Mulayam Singh's visit to both the outfits during the day compounded the confusion of party workers in the run up to the 2019 Lok Sabha polls.
"We have been left wondering with whom Netaji's (Mulayam) sympathies lie and which party to work for," said a veteran party worker, requesting anonymity.
Mulayam Singh Yadav first reached the office of his brother's fledgling party, PSLP at 6, Lal Bahadur Shastri Marg, where Shivpal Yadav said he dreams of seeing his elder brother as the country's prime minister and requested him to become his party's president, besides its prime ministerial candidate in the 2019 Lok Sabha elections.
Addressing his party workers, Shivpal Yadav said, "We have a dream to see Netaji as the country's prime minister. It is yet to be fulfilled. Netaji will be our party's prime ministerial candidate."
Attacking his nephew Akhilesh Yadav, he said, "Owing to backbiting and sycophants, Netaji was insulted. I was also insulted. Hence, I had to form a new party. We want to get Netaji's blessings as we respect him from the bottom of our hearts. The party is waiting for Netaji. We are confident that we will defeat the BJP in UP under his leadership."
He also said, "Whatever be the directives of Netaji, it will be followed. Almost 40 like-minded parties are supporting us."
"We have formed the party with the blessings of 'Netaji' to carry forward the Lohia ideologies," he said as enthusiastic party workers garlanded Mulayam Singh Yadav, who, however, remained non-committal to Shivpal's public offers.
Speaking on the occasion, Mulayam Singh said, "Samajwadi people should oppose injustice and take forward the samajwadi (socialism) ideology.
Mulayam Singh Yadav then drove down to the nearby headquarter of his party, headed by his son and briefly addressed the party workers, giving them his 'mantra' on how to win the next Lok Sabha elections.
The SP workers' confusion began last month when Prateek Yadav's wife participated in a function organised by Shivpal Yadav and expressed her support for him.
She was reported as promising to work for strengthening the PSPL.
Aparna Yadav, who shared the stage with Shivpal Yadav, had said, "I have always respected chachaji and Netaji (Mulayam Singh Yadav) and we will work towards making the Secular Morcha (of Shivpal Yadav) stronger."
Aparna Yadav had also said Shivpal Yadav would decide a suitable time for her to join and contest from the Secular Morcha.
Previously too, Mulayam Singh Yadav had made an appearance at a function along side his brother Shivpal Yadav after he launched his new outfit.
The event was organised to mark the death anniversary of the party ideologue Ram Manohar Lohia.
Though on that occasion Mulayam Singh Yadav had refrained from taking questions from the media, Shivpal Yadav had expressed happiness over the presence of his elder brother. "Today Netaji has graced the occasion with his presence and has given us his blessings. I am sure he will continue to give us his blessings in the future also," he had said.
In August, Shivpal Yadav had launched 'Samajwadi Secular Morcha' after expressing his disappointment with the Samajwadi Party leadership.