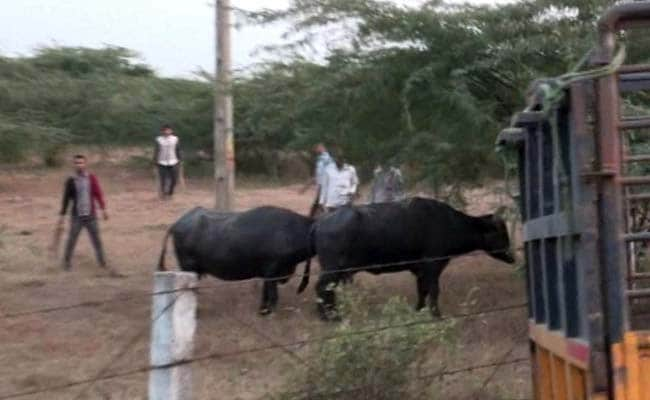 Ahmedabad:
Almost two days after a SpiceJet flight was hit by a buffalo at the Surat airport, authorities carried out air searches to find if more stray animals could still be inside the airport premises spread over 700 acres.
The authorities used a helicopter for the search operation on Friday and managed to trace two more buffaloes inside. They were later taken out of the airport premises with the help of municipal authorities.
"Intense search were carried through air since it's a huge area. We managed to track down two buffaloes and we are checking if there are more stray animals inside," Surat municipal corporation official Manhar Patel said.
140 passengers on board a Surat-Delhi SpiceJet flight had a narrow escape on Wednesday when the plane thudded to a stop after hitting a buffalo which had strolled on to the runway. The collision killed the buffalo and caused potentially multi-million dollar damage to the Boeing 737 aircraft.
The Civil Aviation Ministry has ordered separate inquiries by the Director General of Civil Aviation and the Airports Authority of India. Minister Ashok Gajapati Raju held a meeting and reportedly ordered that fencing at all airports should be replaced by concrete walls.
Just next to the Surat airport are fields where grazing cattle are a common sight. On Tuesday, one of the animals had apparently entered the runway area through the breach in the perimetre that is now being repaired.
The pilot reportedly spotted the animal "all of a sudden," but could not avoid the collision.
In a statement, SpiceJet said the buffalo was almost invisible against a dark background. The airline also said that it won't resume flights at Surat without "corrective measures to ensure its passengers, crew and aircraft are not put at risk again."
Indian airports have long battled the problem of animals on the runway.
In 2008, a Kingfisher Airlines plane hit a stray dog on the runway at the Bangalore International Airport. The same year, an Air India aircraft hit a Nilgai at Kanpur Airport. In 2009, a Kingfisher flight hit a stray pig at Nagpur airport.