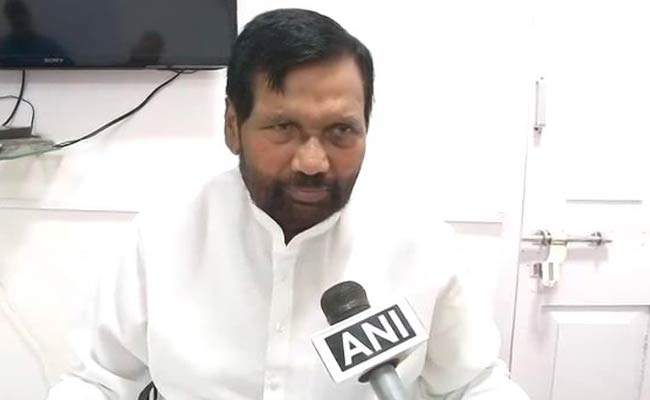 Patna:
Union Minister and Lok Janshakti Party chief Ram Vilas Paswan today said the Narendra Modi government ought to be "more communicative" about its efforts for betterment of minorities and Dalits in order to counter the criticisms of the opposition.
The Union Consumer Affairs, Food and Public Distribution Minister said the Modi government has taken a number of concrete steps that would benefit the minorities and Dalits.
"I can bet that no government in the history of the country has taken so many concrete steps that would benefit the most backward segments of the society, including Dalits and minorities. Hence, I keep telling our BJP friends, boliye (be more communicative)", the LJP chief told reporters here.
Mr Paswan rubbished allegations that minorities felt "insecure" under the rule of BJP-led NDA, saying "in the last four years, has anybody heard Prime Minister utter a single word on Article 376 or Ayodhya. The misgivings are unfounded and those making such assertions often do so out of mischief"
The LJP chief said a hue and cry was made by the Congress in the aftermath of assault of some Dalits at Una in Gujarat two years ago.
"The party, which did little for seven decades except paying lip-service to its vote-bank of Dalits, Muslims and Brahmins, made it an election issue when the state went to polls more than a year after the incident took place", he said.
Replying to a query, Mr Paswan claimed that his party has always been in favour of the grant of special category status to Bihar.
"With the creation of Jharkhand, Bihar was ravished of its rich mineral resources. So Bihar definitely deserves special assistance, much more than relatively developed states like Andhra do. The 14th Finance Commission may have done away with the special status category, but the Centre will not let Bihar down. The state will get as much extra help as it requires", Mr Paswan added.