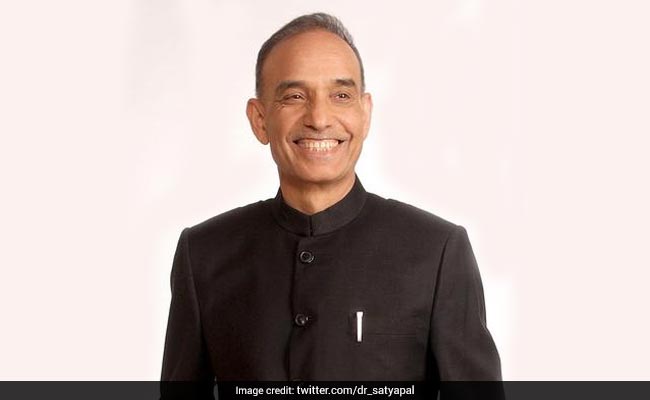 Guwahati:
Union minister Satya Pal Singh on Monday stuck to his claim that Charles Darwin's theory of evolution of man is "not scientific" and called for an international debate on the issue to decide if it merits a place in school textbooks.

The minister of state for human resource development had stoked a controversy last week saying that our ancestors have nowhere mentioned that they saw an ape turning into a man, thereby casting doubts on Darwin's evolution theory.

Several scientists have come out against Darwin's evolution theory and the comment he made last week was based on facts, Singh told reporters on the sidelines of a meeting at IIT-Guwahati.

Senior scientists slammed the minister's comment -- that nobody, "including our ancestors", mentions seeing an ape turning into a man -- as wrong at multiple levels and defying both logic and biology.

An online letter by scientists and "scientist oriented members of public", signed by over 3,000 people, asked Singh to retract his "overly simplistic and misleading representation of evolution" statement.

Satya Pal Singh, however, still stands by his claim and has asked for a debate with all kinds of scientists -- evolutionists and Darwinists, and also "other kind of scientists" to discuss the topic and wants the HRD to drop 'wrong' information from textbooks. He has also blamed the media for fueling a controversy.

"I absolutely stand by my comment that Charles Darwin's theory of evolution is not scientific. There is hardly any evidence to substantiate the theory. Great scientists of the world came out to say there is no evidence available in the world which can prove the theory of evolution is correct," the minister claimed.

"I propose, if the Ministry of Human Resource Development is ready to sponsor a world-level international conference to decide what is true and factual and that must be taught in schools and colleges."

"There has been no 'evolution' or 'destiny'. There is only 'being'. Evidence has come out against the theory," Singh said, giving out a list of international scientists since Darwin's time who opposed his theory of evolution.


"They (scientists) are saying no we cannot see evolution is taking place because it happened millions of years ago. You can find the evidence in the fossils. There are billions of fossils, not even in one fossil in intermediate evolutionary stage has been found," Singh had claimed.
Scientists all over have been very upset with the minister's claims.
"We, the scientists, science communicators and scientifically oriented members of public, are deeply pained by your claim. It is factually incorrect to state that the evolutionary principle has been rejected by the scientific community."
"What has been said by Dr Singh is wrong at multiple levels. Indeed, it defies both logic and biology," said Amitabh Joshi, professor at Bangalore's Jawaharlal Nehru Centre for Advanced Scientific Research (JNCASR).
Raghavendra Gadagkar, professor, Centre for Ecological Sciences, Indian Institute of Science, Bangalore, said he wasn't sure how useful it was to refute the statement on the basis of facts, which are "very clear".
"To start with, all scientific evidence suggests that humans diverged from their closest living relatives, namely the chimpanzees, about five million years ago. Thus, there was no question of our ancestors being able to witness the event and record it in their scriptures." Gadagkar said.
Singh is a former police commissioner of Mumbai.
(With inputs from PTI)