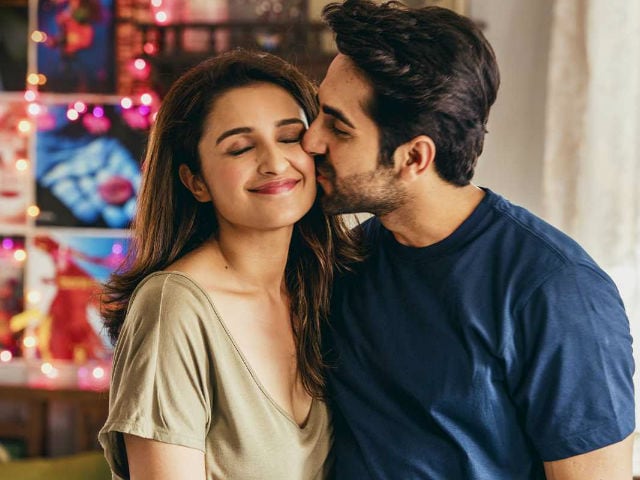 Cast:
Ayushmann Khurrana, Parineeti Chopra, Aparajita Auddy, Rajatabha Dutta, Abish Matthew
Director:
Akshay Roy
Rating:
Three stars
SPOILERS AHEAD
I tend to grow on people, the male protagonist preens. In a completely different context, he also admits that nobody's perfect. Both statements could apply equally to
Meri Pyaari Bindu
, a breezy romantic comedy from the Yash Raj Films stable that is unlike any romantic comedy ever to have come out of the Yash Raj Films stable - or, for that matter, from the Bollywood dream factory as a whole.
Far from being perfect,
Meri Pyaari Bindu
, written by Suprotim Sarkar and directed by debutant Akshay Roy, hums and haws its way through its initial portions without making too much immediate sense. But about 30 minutes in, the film begins to grow on you as the lead pair strike up a nice, effortless rapport with each other to the accompaniment of a lively slew of memorable Hindi films songs played on a video-cassette player that serves to bind their characters together.
A light-hearted, freewheeling and charming love story with a twist-ending,
Meri Pyaari Bindu
does not play by the usual emotional exigencies or the standard moral methods of the genre. Its exploration of a tender but lively relationship that soars on the wings of the golden Hindi movie oldies - Rafi and Lata, Kishore and Asha - in 1980s Calcutta is marked by delightful whimsicalities. Not all of it hits home. But what does sticks and makes a definite difference.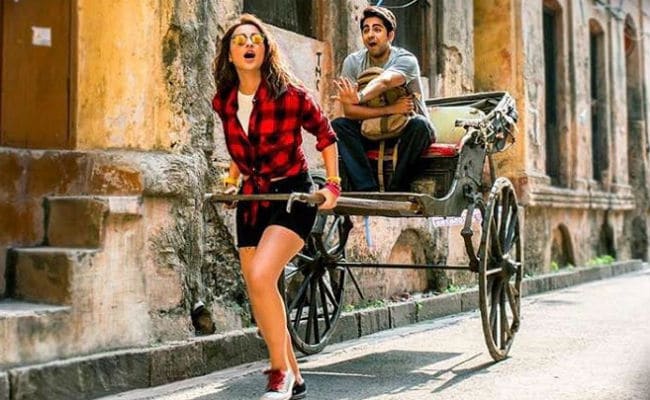 The ditties are a part of a mixed tape that Abhimanyu Roy alias Bubla (Ayushmann Khurana), a Sovabazar lad, and
his bubbly neighbour Bindu Shankarnarayanan (Parineeti Chopra)
decide to create on the spur of the moment. It is, as Abhi announces, meant to be the "soundtrack of our lives". But it isn't just shared film songs that yoke Abhi and Bindu together. Football, noisy get-togethers and samosas with green chutney, too, play a role in cementing their relationship.
Steeped in free-flowing nostalgia that celebrates Gulzar's delicate lyrics as much as it does Geeta Dutt's achingly lovely voice,
Meri Pyaari Bindu
begins in 1983, the year Kapil Dev Nikhanj lifted the World Cup at Lord's and Kishore Kumar and Asha Bhonsle belted out
Taki o taki
for
Himmatwala
, and culminates in the present day, but not quite in the manner that conventional love stories usually do.
The opening sequence of
Meri Pyaari Bindu
- in which we see a massive Durga idol being ferried by a helicopter across Kolkata - is a scaled-down version of the introductory scene of a statue of Christ being flown over Rome in Federico Fellini's La Dolce Vita. Not quite the real thing but the effort itself is interesting.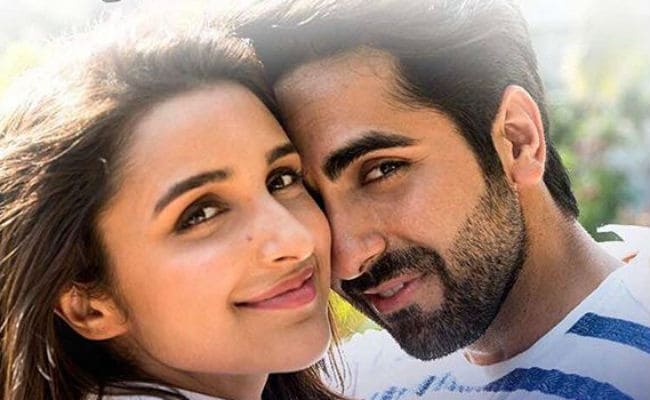 As the city gears up to welcome the Mother Goddess and we hear strains of the
dhaak
, a young man contemplates ending his life by jumping off a terrace while his faithful Labrador named Devdas watches askance.
In
Meri Pyaari Bindu
, the fits-and-starts progression of the story is linked to film songs, movies and specific events that have stayed with the two lovers as the world has moved from typewriters (Abhi still uses one) to laptops. The two much-in-love-but-unsure-of-their feelings neighbours go their own ways but keep running into each other - in Kolkata, Mumbai and Goa - until an over-dramatic, marriage proposal staged by the hero's family and friends scares away the heroine and pulls the rug from under Abhi's feet.
Much of the story - if one can call it that - unfolds in Kolkata, so the soundtrack is peppered with Bengali dialogues, which might be a distraction for segments of the audience.
Abhimanyu is a Mumbai-based writer of bestsellers, but he isn't particularly proud of these books. Low on inspiration, he returns to his roots to attempt something more meaningful. He decides to pen an emotional love story drawn from his own life. He titles the manuscript
Meri Pyaari Bindu
. It obviously is about his lovely but elusive padosan.
Bindu, full of beans but hobbled by self-doubt, is a reluctant reader. She is an aspiring singer. She has a history of aborted engagements. She has fled from two already and is now game for another. While Abhimanyu finds himself trapped in a demanding bank job in Mumbai, the latter decides to become a voice artist in the same city simply to bide her time until her big break comes along. But life, as the two drifters discover, has its own rhythms and its own reasons.
Meri Pyaari Bindu
is a whimsical look at youthful ambition and the urge for freedom. The lead characters nurture opposing approaches to life and yet they get along like a house on fire. The boy has an overly protective mother (Aparajita Auddy) who does not leave him alone for a second; the girl has an alcoholic armyman-father (Prakash Belawadi) whose irresponsible ways has tragic consequences. But they aren't moaners. They take the smooth with the rough without losing their cool.
Watch the trailer of
Meri Pyaari Bindu
:
Meri Pyaari Bindu
is as much about falling in love as about learning to deal with heartbreak. It is about growing up and out of childhood crushes. It is a lively film that is endowed with maturity, a quality that is enhanced by the two central performances. Pretty much like the film itself, Ayushmann and Parineeti (overall, infectiously buoyant) blow hot and cold for a while before settling into a rhythm, helped, of course, by the steadying influence of the second half.
In a scene, the two characters take potshots at the other release of the week -
Sarkar 3
- raking up a reference to the "
Govinda, Govinda
" refrain in the RGV film's background. Would the writer, the director and the actors have known that the arrival of their film in the multiplexes would be coinciding with the release of the Amitabh Bachchan starrer?
Meri Pyaari Bindu invokes the past of Hindi cinema
and its music to string together a genuinely modern urban love story (which isn't without its warts) where the desire for individual freedom - driven by the head - triumphs over matters of the heart. The film is none the worse for it. Its biggest strength is that it isn't the least self-conscious.