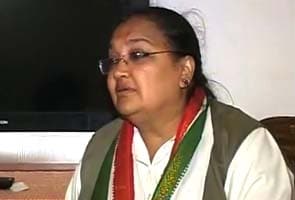 Lucknow:
A local leader of Arvind Kejriwal's Aam Aadmi Party (AAP) has filed a case in Uttar Pradesh against Congress leader Louise Khurshid, wife of External Affairs Minister Salman Khurshid, alleging that she tried to run him over during a protest. Congressmen have filed a counter case.
Vivek Yadav, who heads the Mainpuri unit of AAP in UP, has filed cases of loot, dacoity and attempt to murder against Mrs Khurshid. He has alleged that Mrs Khurshid's car tried to run a colleague Sunil Mishra and him over when they were waving black flags at the Congress leader on Wednesday. Mrs Khurshid was in Mainpuri to inaugurate an eye check-up camp.
Mr Yadav has also filed cases against 10 other Congress workers and supporters, including the district Congress president Prakash Pradhan, the police said. The AAP leader has alleged that after the attempt was made to run them over, Mr Pradhan pulled out a revolver and aimed at them.
But Mr Pradhan too has filed a first information report with the police alleging that Mr Yadav and his supporters attacked the Congress workers and looted their mobile phones. Mr Yadav, too, has been booked for dacoity as also for wrongful confinement.
The police is investigating into the matter.
The police have said follow-up action is being taken. "We have sought the video recording of the event where the alleged happenings took place. Appropriate action will be taken after studying the recording," said Senior Superintendent of Police Shalabh Mathur.

(With IANS inputs)