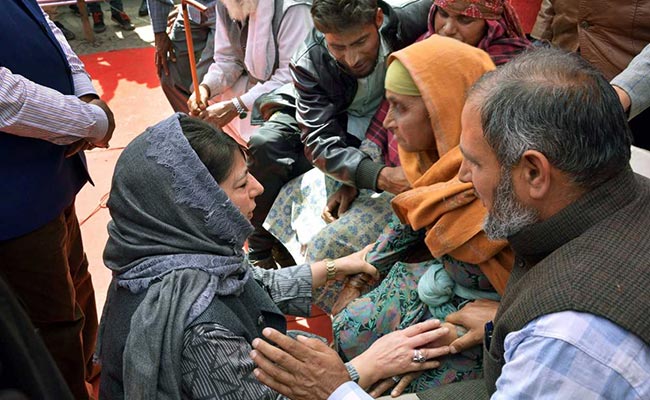 Jammu:
A day after five members of a family were killed in Pakistani shelling, Jammu and Kashmir Chief Minister Mehbooba Mufti today appealed to Prime Minister Narendra Modi to take the lead in taking the state to peace.
The chief minister also appealed to the leadership of Pakistan to see logic of peaceful engagement and dialogue with India as wars in the past yielded nothing except devastation, death and destruction.
Addressing people in Bhimber Gali sector of Mendhar after visiting the family which lost five of its members in yesterday's cross LoC shelling, Ms Mufti said she would continue to advocate cessation of hostilities along the borders and between the two countries.
Better late than never, she said.
The chief minister added that when she last met Prime Minister Modi she appealed him to act like an elder brother and persuade Pakistan for a peaceful engagement and work jointly against poverty, unemployment and deprivation.
Dialogue and reconciliation is needed to get the state out of bloodbath and continued exchange of fire on the borders, she said.
She appealed to the prime minister to take lead in getting Jammu and Kashmir out of "this bloodbath and help people in leading peaceful and normal life".
It is unfortunate that the people of border areas in the state like Poonch, R S Pura, Nowshehra, Uri and Karnah are paying a heavy price due to continued shelling across the borders, she said.
The chief minister recalled the decade long peace along the borders and an atmosphere of reconciliation within the state which followed after the then prime minister Atal Bihari Vajpayee's initiatives of reconciliation and dialogue in the state.
Prime Minister Modi also took the bold step of visiting Lahore but unfortunately incidents like Pathankot stalled the process, she said.
Terming partition of the country as unfortunate, the chief minister said the people of the state never ever had wanted that but unfortunately are paying a heavy price of the same.
"What was the fault of these five persons or this elderly mother?," she asked referring to yesterday's victims of cross border shelling.
She said it is very unfortunate when people elsewhere are demanding better facilities, residents of border areas in the state were asking for bunkers.
Describing the residents of border areas as country's first line of defence, she said these were the people who guarded the territorial integrity of the state and the country.
She said her government has created two battalions of IRP comprising people of the border areas. The chief minister assured the people that whatever due, would be done for them including creating avenues of employment, strengthening of health facilities and road connectivity.
Earlier on her arrival, Ms Mufti met the mother and other kin of the family whose members were killed in yesterday's shelling. She assured them all help in their rehabilitation and on spot handed over ex gratia and other relief.
(This story has not been edited by NDTV staff and is auto-generated from a syndicated feed.)