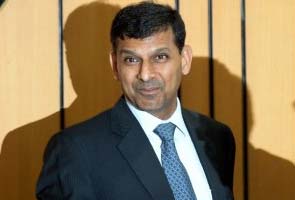 New Delhi:
Less than 24 hours in the job and he has already been dubbed "The Guv" by a gushing Indian media and portrayed as a suave James Bond-like figure coming to the rescue of the country's crashing currency.
With the ink of his signature still drying on the oath that made him the 23rd governor of the Reserve Bank of India (RBI) on Wednesday, Raghuram Rajan, stunned investors by announcing a raft of measures aimed at shoring up the beleaguered rupee. His statement triggered a rally in the rupee and a surge in shares.
(Rupee, Sensex rally; Raghuram Rajan fuels confidence but faces some sceptics)
After weeks of reporting bad news on India's economic slowdown and tumbling currency, media breathlessly cheered the 50-year-old University of Chicago economist, giving him coverage normally reserved for Bollywood A-listers.
(10 reasons why markets are cheering Raghuram Rajan)
The "Name's Rajan, Game's Bond," punned India's leading business daily, the Economic Times, with a photo-edited picture on its front page of Rajan in an action pose and brandishing the fictional British spy's trademark Beretta pistol, albeit one made of rupee notes.
"Brilliant and bold. That's the takeaway from the first day first show of Raghuram Rajan," wrote Raghuvir Srinivasan, business editor of the Hindu, a leading English-language newspaper.
The enthusiastic welcome extended beyond the media.
"The statement is impressive and a must-read," Deutsche Bank Research said of Rajan's reform plan, calling him a "breath of fresh air".
Rajan is a respected international economist and best known for his prescient warning in 2005 about a possible global financial crisis.
But it is not only his economic theories that attract attention. Admirers comment on his looks, athletic build and also his casual manner, which is in stark contrast to the typical buttoned-down stiffness of Indian bureaucrats.
"THE GOVERNATOR"
He has already inspired a parody Twitter site called "The Governator".
"I think it's time I took my shirt off," a Tweet read in August after various measures announced by the government and the central bank failed to arrest the fall in the rupee.
He arrived at the Reserve Bank of India's headquarters in a cab on Wednesday for what many had thought would be just a series of "meet and greet" sessions with senior bank officials and photo opportunities before getting down to work on Thursday.
Even when it was made known that he would make a statement in the early evening, not much was anticipated.
Rajan, who until Wednesday had been cautious in his public utterances, had been expected to follow in the footsteps of his predecessor, Duvvuri Subbarao, who took office with a one-line statement saying he would focus on containing inflation.
Instead, Rajan had a six-page statement outlining his plan for liberalising financial markets and the banking sector. He announced a blizzard of measures, speaking so fast that at times journalists struggled to keep up. Some commentators on cable television channels broadcasting the news conference said they had never seen anything like it.
Rajan, who before taking office warned that he did not have a magic wand to fix India's economic ills, was careful to dampen unrealistic expectations of what he could achieve.
"Any entrant to the central bank governorship probably starts at the height of their popularity. Some of the actions I take will not be popular. The governorship of the central bank is not meant to win one votes or Facebook 'likes'," he said.
Indeed, investors cautioned that a dazzling debut was one thing, but fixing an economy with plunging growth and a record current account deficit was quite another.
"Rajan means business, but most of his measures are just statements of intent, especially in the light of government finances being so precarious," said G. Chokkalingam, managing director and chief investment officer at Centrum Wealth Management.
The "Governator" also struck a note of scepticism, tweeting: "Hope you enjoyed all the measures that I have just announced. Now please wait for a decade before they are in full effect."
© Thomson Reuters 2013