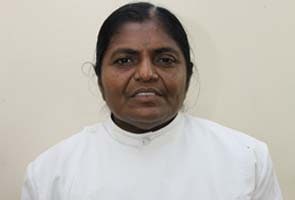 Chennai:
In a first for the Indian mainstream church, The Church of South India [CSI] is all set to consecrate Rev E Pushpa Lalitha as Bishop of its Nandyal Diocese in Andhra Pradesh on September 30.
Ordained in the Rayalaseema diocese, Rev Lalitha has served several pastorates in Nandyal besides being the Treasurer of the diocese.
Speaking to NDTV, the 57-year-old single cleric said, "It is the grace of God and a gift from God. I depend on him to show me the way. Nandyal is a rural diocese and I would work for the spiritual development of the Church."
The CSI began ordaining women as priests in the year 1976. Presently there are around 110 women Presbyters in its dioceses. Rev E Lalithaa was chosen among three other men candidates short listed by the Selection Board. "It was a unanimous decision," says MM Philip, the General Secretary of the CSI". He adds, "This would definitely empower women. While many western churches are debating this issue, the CSI has been leading in revolutionary thinking from women's education to empowerment."
Rev Pushpa Lalitha is single. She earned her BA from Andhra University and BD from the Andhra Christian Theological College in Hyderabad. She was also trained in the UK.
Just last week, Anglicans set history by appointing Rev Pat Storey as the first woman Bishop in the UK and Ireland.