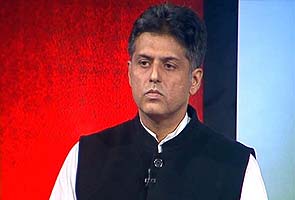 New Delhi:
Information and Broadcasting Minister Manish Tewari today said last week's layoff by a news channel and the legal recourse against the wage board recommendations by one of the promoters has led him to conclude that "media is a business".
Addressing a symposium in Delhi, Mr Tewari said there was a need to reflect on a "question germane to the media: whether it is a business as defined under the Indian constitution or any other activity."
He said in the wake of the "downsizing or rightsizing taking palace in one of the broadcasting platforms, and at a time when wage board recommendations have been taken to court by one of the promoters, I cannot but help conclude that it would be fair to say that media is a business". He was referring to over 300 job cuts, including some well-known names, by a news channel last week.
The minister said the rights of the citizens and the rights of the media barons "fall in different tracks with the twain not destined to meet". Mr Tewari said the "conundrum bedevilling the media landscape" today in India is: "do we have freedom of the press or freedom of the owner of the press?"
Mr Tewari said it was time for the print media, which has more or less tried to keep rates low over the years, to "reflect and rationalise tariffs". Referring to the leading US daily Washington Post, which was sold off to Amazon founder Jeff Bezos for $250 million, he said the print media globally is under stress and print numbers are declining globally.
He said the heavily advertisement-dependent model of newspapers was "not the way forward" and called for "serious introspection" in the print media on how far the advertisement model can sustain them.
On the broadcasting sector, he said of the 798-odd channels, 415 are news channels, and they too are "hugely" dependent on advertisements for revenue. "This has led to addiction of sensationalism, manufactured anger and media trials," the minister said. This, he said, leads to violation of privacy and the issue needs to be addressed.