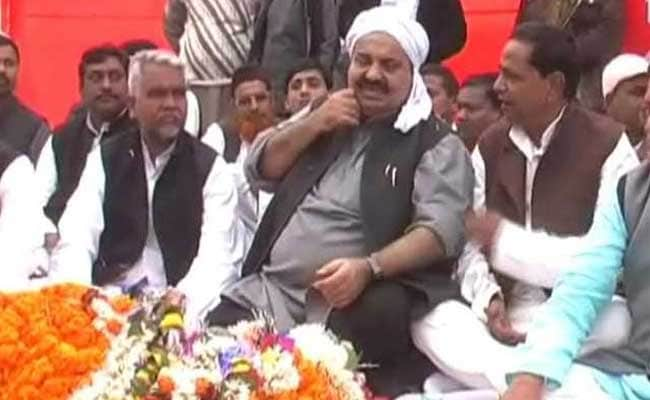 Ballia, UP:
Senior BSP leader Uma Shankar Singh on Monday came out in support of Shaista Parveen, the wife of gangster-turned-politician Atiq Ahmed, and said the police's cash reward for information on her is an attempt "to divert attention" from its failure in solving the Umesh Pal murder case.
Uttar Pradesh Police has announced a Rs 25,000 cash reward for information leading to Ms Parveen's arrest.
Mr Singh said while questioning the move, "The action of declaring the reward is an attempt by the police to divert attention."
Speaking to reporters, the BSP's leader in the Uttar Pradesh Assembly added, "Even after 15 days of the incident, the hands of Prayagraj police are empty. People should not question them, therefore, the reward has been declared.
"A reward of Rs 2.5 lakh has also been announced on the shooters but so far no one has been caught."
Defending Ms Parveen, the Rasra MLA said, "Shaista Parveen has no relation, even remotely, with the murder case. Even the police have not been able to prove it. She is a social person.
"Shaista Parveen is all set to become the mayor of Prayagraj and the BJP is going to lose the seat. This is the (reason) behind the BJP's fury." Singh stressed that BSP chief Mayawati has already announced that action will be taken against Parveen if the allegations against her are proven.
"We still stand by that. If the allegation is proven, Shaista Parveen will be expelled from the party," he said.
The BSP never compromises on matters of crime, Mr Singh added.
Questioning the move to arrest Ms Parveen on the basis of a picture of her with a criminal, Mr Singh said a photograph of a shooter with Akhilesh Yadav, the Samajwadi Party national president, also surfaced in the media recently.
"Will the police arrest Akhilesh Yadav? If action is being taken on the basis of the photograph, then why has Akhilesh Yadav not been arrested yet. He is roaming about freely," the senior BSP leader said.
The Rs 25,000 reward on Ms Parveen, who is currently missing, was announced on Friday, said Dhumanganj police station SHO Rajesh Kumar Maurya said.
An FIR was registered at Dhumanganj police station in Prayagraj on the basis of a complaint by Umesh Pal's wife after he and his two security personnel were shot dead on February 24.
Atiq, currently lodged in a Gujarat prison, is the main accused in the 2005 murder of BSP legislator Raju Pal. Atiq, his brother Ashraf and wife were booked in connection with the killing of Umesh Pal, a key witness in the Raju Pal murder case.
(Except for the headline, this story has not been edited by NDTV staff and is published from a syndicated feed.)