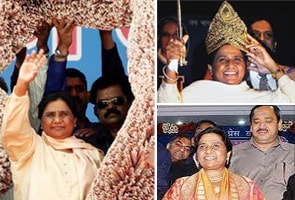 New Delhi:
In an apparent change of stand, the CBI has told the Supreme Court that it has found cogent, credible and admissible evidence for prosecuting U P Chief Minister Mayawati in a disproportionate assets case relating to her declared wealth going up from Rs 1 crore in 2003 to Rs 50 crore in 2007.
The agency's submission in an affidavit came nearly four months after it had shown willingness to consider her plea to accept the clean chit given to her by the IT authoorities.
Mayawati's counsel today made a plea for postponement of hearing fixed for Monday which was opposed by the CBI. The CBI stand in April had come when the Centre was
trying to cobble up the numbers including support of Mayawati's party, BSP, to sail throught the cut motion brought by the BJP and the Left. BSP had then voted for the
Government.
In the latest affidavit filed in the apex court, CBI made it clear that there was no question of dropping the case against her. The agency had pointed out that her declared assets of
Rs 1 crore in 2003 had gone up to Rs 50 crore in 2007 and said there was "ample evidence" to show she had amassed wealth disproportionate to her known sources of income.
Mayawati had claimed she had received the money through donations from party workers, which included meagre sums of Rs 5 and Rs 10 which they contributed on her birthday. The UP CM had filed a petition in May, 2008, seeking quashing of the criminal proceedings against her in the case alleging it was registered due to "political reasons".
Mayawati had pleaded that the case against her should be withdrawn in the wake of the Income Tax Commissioner's order of April 5 and 19, 2010 giving her a clean chit after
accepting her contention that the assets were gifts given to her.
CBI contended that this order has been challenged before the Income Tax Appellate Tribunal (ITAT). "Since the I-T department has appealed against the order, therefore, the DA case cannot be closed just on the basis of these orders specially in the light of independent investigations carried on by CBI in which cogent, credible and admissible evidence has been collected," it said.
CBI contested Mayawati's plea that the probe agency was harassing her. "It is strongly denied that the case is based on surmises, conjectures or preconceived notions, rather
the case is based on reliable and admissible evidence". "During the investigations conducted by the CBI, reliable and cogent oral, documentary and circumstantial evidences have been collected in support of the bogus nature of the gifts in the form of cash and other immovable assets claimed to have been received by the petitioner (Mayawati)," the affidavit said. CBI said it has never overstepped its authority.