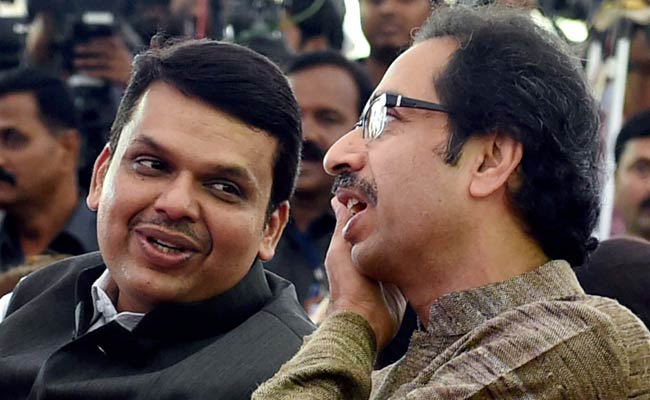 Highlights
Shiv Sena criticises Devendra Fadnavis for translation goof up
Gujarati translation played out during Governor's speech in Assembly
Shiv Sena alleges Fadnavis is silent when Maharashtra is targeted
Mumbai:
The Shiv Sena has squarely blamed Maharashtra Chief Minister Devendra Fadnavis, for the missing translation audio of the Governor's address in Assembly, on the first day of the state's budget session on Monday. In a huge embarrassment, the Chief Minister had to apologise in the House, after a Gujarati translation audio of Governor CV Rao's speech played out. The Marathi translation was not available due to a technical problem, sources said. "The government has failed 12 crore citizens of Maharashtra," said opposition Congress and the NCP while boycotting the Governor's remaining speech.
"Why do faults occur only when the Marathi language is concerned?" the Shiv Sena said, in an editorial in its party mouthpiece, Saamana on Tuesday. The Sena questioned, why is the Chief Minister silent when "Somebody talks about dividing Maharashtra" or someone else "talks in an insulting manner about Chhatrapati Shivaji Maharaj".
The Sena alleged that the Bhartiya Janata Party, along with other parties, were creating controversies to undermine the language, to win the Assembly and the city civic body polls. "The Chief Minister of Maharashtra represents a Marathi state and his duty is to protect the Marathi language and the people. However, in a bid to display an image of a leader of all languages, he shies away from speaking in Marathi at many public events," the Saamna said.
At a time when the ties between Shiv Sena and ally BJP has hit the rock bottom in Maharashtra and at the Centre, the former alleged that attempts were being made for the last two-three years to divide the Marathi votes and win polls with the help of non-Maharashtrians. "The Marathi self-esteem is suffering in the process," the party said.
Shiv Sena's stinging criticism came on the "Marathi Bhasha Din", which is observed every year, to mark the birth anniversary of eminent Marathi poet, Vishnu Vaman Shirwadkar.