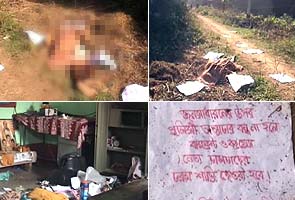 Purulia:
Maoists today shot dead seven Forward Bloc workers at West Bengal's Purulia district because they suspected them to be police informers.
According to the police, all seven were picked up from their homes in Jhalda late at night, dragged to a field and shot at close range.
The police has found posters left by the Maoists at the spot that claim that the five villagers had been spying for the security personnel.
Left parties have called a bandh in Purulia to protest against the killings.
The Forward Bloc said the killings were in retaliation of the anti-Maoist operation backed by the Left Front government.