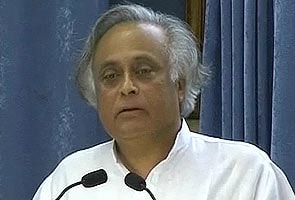 New Delhi:
Union Rural Development Minister Jairam Ramesh on Monday admitted manual scavenging was still a reality in India and wished social reformers like Raja Rammohan Roy and Lord Bentinck had given it as much attention as they did to abolishing Sati.
Mr Ramesh said despite claims by the government, the Census of 2011 threw up a different picture.
"The country still has nearly 27 lakh dry toilets in use. Sixty per cent are in urban areas and 40 per cent are in the rural areas. Nearly 2 lakh-3 lakh people are still involved in manual scavenging," Mr Ramesh said, addressing a panel discussion on manual scavenging at the inauguration of an exhibition "Breaking Margins: For Social Inclusion".
"Let me say how anguishing it is for an Indian to see what must be one of the shameful practices in India. 65 years after Independence, it still continues," the minister said.
The exhibition at the British Council commemorates the UN Human Rights Day by the Poorest Areas Civil Society (PACS) with 30 images and text plates by PACS photographers.
Mr Ramesh noted that the gap between the claims and reality was very large and said the initiatives to do away with the practice from the society should come from people's consciousness - and acknowledgment that the malaise still afflicts us all.
The minister said adequate legal steps have to be taken to abolish the practice. "We have introduced a bill in parliament that for the first time probihits manual scavenging," he said.
The bill redefines the concept of manual scavenging by taking a holistic view of the problem, he said.
The final step in the eradication mission is re-settlement, he said. The government must provide alternative livelihood to the nearly 200,000 manual scavengers, Mr Ramesh said.
"The depth of the problem is more acute in the northern and eastern India than in south India. In the next couple of months, we will be able to provide skill-based training to those who give up manual scavenging. Alternative livelihood generation is an important component of the legislation," he said.
He said the country was committed to building bio-toilets on the Indian Railway to eradicate manual scavenging.
"There are 50,000 coaches that have to be equipped with bio-toilets. We build 4,000 coaches a year," he said.
Mr Ramesh said "women are the focus of the manual scavenging eradication mission" and self-help groups in villages were working in villages under the National Rural Livelihood Mission to create collectives of manual scavengers for skill training.
Statistics by PACS, one of the biggest civil society programme, says everyday nearly 2 million people in India (of which 87 per cent are Dalit women and children) are forced to scavenge manually.