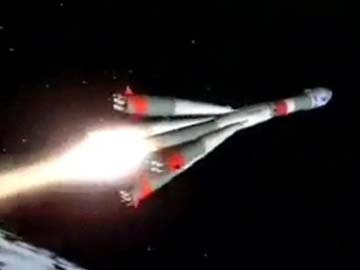 Bangalore:
India's maiden mission to
Mars
, Mangalyaan, has performed to perfection and now is racing for its historic rendezvous with the Red Planet. Prime Minister Narendra Modi is among the audience at the mission control centre in Bangalore which will cheer Mangalyaan on towards its destination.
Mangalyaan has had a dream run so far. But pushing it into the Mars orbit could be a tricky operation. The ISRO mission control will have to slow down the satellite and hope it gets drawn into the orbit by the gravity of Mars.
To slow it down, the satellites on board the rocket motor are fired for several minutes. The gravity of Mars then captures Mangalyaan. In case the satellite cannot be captured by Mars, it will be lost in outer space. (Read:
Want a Selfie With Mangalyaan? Try This New Mobile App
)
But Indian Space Research Organisation, or ISRO, is high on hopes of success, which has marked the progress of the project so far. (Read:
India's Mars Orbiter, Mangalyaan Clears Crucial Test
)
"We have to be relaxed if we have to take tough decisions and manage critical operations," said K Radhakrishnan, Chairman, ISRO, Banglaore.
Fast tracked by ISRO, Mangalyaan was made in just 15 months at a cost of Rs 450 crore - the cheapest inter-planetary mission ever to be undertaken. (Read:
Mangalyaan, the Cheapest Mars Mission Ever
)
PM Modi had earlier said, "The Hollywood movie
Gravity
cost more than our Mars mission - this is a great achievement".
The rocket that carried India's first unmanned satellite to Mars was as high as a 15-storey building and weighed nearly 320 tonnes - almost as much as 50 full-grown elephants.
The Mars Orbiter first made several revolutions around the Earth as it gathered enough velocity, and then it was shot onwards to Mars on its long journey. One after the other, four stages of the rocket had ignited, taking Mangalyaan higher into space.
Once in the Mars orbit, Mangalyaan will look for signs of life on the Red Planet, asking that big question: Are we alone in this universe?
Get the latest election news, live updates and election schedule for Lok Sabha Elections 2019 on ndtv.com/elections. Like us on Facebook or follow us on Twitter and Instagram for updates from each of the 543 parliamentary seats for the 2019 Indian general elections.