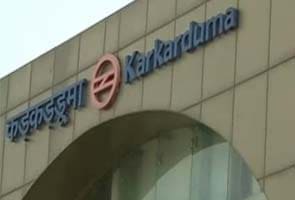 The man who shot dead his wife at the entrance of a metro station in New Delhi yesterday has allegedly committed suicide. His body was found hanging from a tree near a railway station at Muradnagar in Uttar Pradesh today.
No suicide note has been found. The crime branch of the Delhi Police is sending a team to Muradnagar to independently verify the facts.
Pawan Kumar had yesterday shot at his wife and his father-in-law while they were on an escalator at the entrance of the Karkardooma metro station in east Delhi.
The two were rushed to a hospital where the woman succumbed to her injuries. Her father is still critical in the ICU.
The victims, Deepti and her father Bhishamdas, were shot from behind with a 12 bore double barrel gun around 12:10 pm. The accused had then left the gun at the spot and fled. Police say five empty cartridges have been recovered.
The gun belonged to Pawan's father, a retired Delhi government employee, who claims he had called the police when he found the weapon missing in the morning.
Police sources say a marital dispute was the reason behind the shooting. Pawan followed his wife and her father from the court after a hearing on a property dispute between the couple, according to the police.
The two were married for nine years and Deepti had reportedly filed a case of assault against the accused at the women's cell.
The police has stressed that there was no security breach at the metro station as the attacker shot at the two from outside and did not carry the weapons into the station.