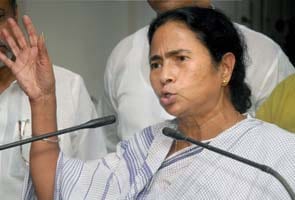 Kolkata:
The Mamata Banerjee government and the State Election Commission (SEC) are now locked in a full-fledged legal battle on who has the last word in holding panchayat polls in West Bengal. For several weeks, they had argued over how many phases to hold the elections in and under which security force. Ms Banerjee's government said two phases and state police; the election commission said three phases and central paramilitary forces. After she went ahead and announced poll dates - April 26 and 30 - negotiations collapsed and, on Monday, the election commission went to court.
The SEC has challenged the West Bengal government's unilateral decision to have polls over two phases instead of the three that it wanted. It has also questioned Section 42 of the West Bengal Panchayat Act that says the election commission should consult the state government on holding elections. It has cited the Constitution which says, as per Article 243K, that the state election commission is supreme in matters of holding elections.
The Mamata Banerjee government is rolling up its sleeves for the legal battle. "We are strong enough to combat this petition. Legally, and in public interest, we are in a good position. We will accordingly present our case in court," said Panchayat Minister Subrata Mukherjee.
This is the first time since 1978 that panchayat polls in West Bengal have been delayed. And opposition parties are accusing Trinamool Congress of a conspiracy to put them off.
"There is a conspiracy hatched by the government of West Bengal and they have a political agenda. What is that agenda? A secret agenda? That this panchayat poll cannot satisfy them as election results may be against the government," said Congress leader Pradip Bhattacharya.
Left Front chairman Biman Bose said, "This is definitely motivated to stall the elections in time. That is part of a conspiracy."
The motive behind the conspiracy? Mr Bose echoed Mr Bhattacharya saying that the Trinamool Congress was worried that its failure at governance would be reflected in the panchayat poll results.
Mr Bose also claimed the Trinamool Congress had not been able to finalise its list of candidates because of infighting within the party over seats.
Both the Left and the Trinamool Congress plan protests from Tuesday on the issue. But even as they battle it out on the streets, all eyes now are on what the courts ultimately have to say.