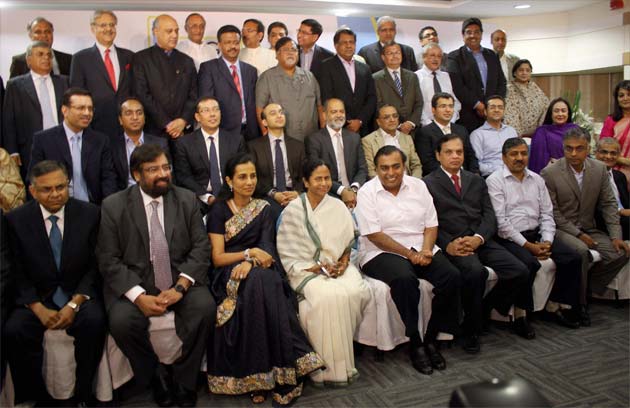 Mumbai:
A confident West Bengal Chief Minister Mamata Banerjee strode into a hall of waiting reporters in Mumbai to announce what she had achieved. Ms Banerjee was leading a delegation of bureaucrats and ministers from West Bengal to woo investors to her state.
"Today we announced projects where they (industrialists) can invest in. They have assured we will invest and do business in Bengal. We have created a land bank through land mapping. We had to clear up a mess of 35 years before I came here," Ms Banerjee told reporters on Thursday.
To drive home her point she added, "No less than Mukesh Ambani himself said Bengal is a gold mine. This will help the youth of Bengal get jobs and create opportunities for the people of the state."
Attending the meeting at Mumbai's World Trade Centre were Reliance Industries Limited (RIL) Chairman Mukesh Ambani, Adi Godrej, Chanda Kochar, Uday Kotak, Ashok Hinduja, Harsh Goenka, Madhur Bajaj and many other PSU heads. Also present at the meeting was Tata Consultancy Services (TCS) CEO N Chandrasekharan.
If the chief minister is to be believed, they are all going to invest in Bengal.
Ms Banerjee's picture perfect moment with the who's who of Mumbai's big business was aimed at silencing all the doubting thomases. Her Mumbai visit comes 48 hours after a convincing Panchayat poll victory against the Left. Wanting to leave no stone unturned, Ms Banerjee made all the right noises.
"The work culture is good now and we do not support strikes. We have brought down man days lost from 78 lakh per year to zero," she said.
Ms Banerjee's sentiment was supported by Mr Ambani, who said at the meeting, "48 hours after a big election victory you are here in the business capital. That means you mean business."
Ms Banerjee also laid out a road-map for the state's future. She claims Bengal will have surplus power in three years. She also stated that her thrust areas are Power, Tourism, Entertainment, Education and Medicine.
When quizzed about the contentious Singur issue, she said it was 'sub-judice'. She went on to repeat her old stand that anyone could do business there after returning 400 acres to farmers who were unwilling to give up their land.
The question remains whether these big ticket announcements will translate into actual investment and whether she will be able to turn around Bengal's ailing economy? That, only time will tell.