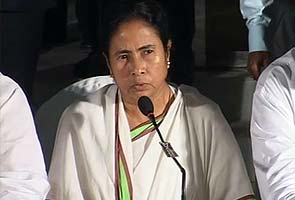 Kolkata:
There is a limit prescribed for the number of ministers you can have in government. In West Bengal, Mamata Banerjee has 44. But she has now passed a bill so that she can have more. Technically, they won't be called ministers but parliamentary secretaries and will enjoy benefits due to a minister of state.
But the move has riled the opposition which says the bill was passed when they were boycotting the house, will cost the state and is a ploy by Ms Banerjee to keep party members happy by giving them posts. They have protested to the governor who has to give his final seal of approval to the bill.
Nothing in the Parliamentary Secretaries (Appointment, Salaries, Allowances and Miscellaneous Provisions) Bill 2012 says 44 of them will be appointed. But given that Ms Banerjee has 44 ministers, the Opposition claims each one will be given a parliamentary secretary, who, in turn, will earn benefits due to a minister of state which, very rough estimates suggest, is Rs. 4 lakh per month.
"When the chief minister is saying she is perturbed about Rs. 2,03,000 crore debt burden, accommodation of 44 parliamentary secretaries in the rank of minister of state and will cost crores of rupees per month and per year. How she can afford this?" says Congress's Manash Bhuiyan.
Others are imputing even more convoluted motives to the move to create the new posts. They claim Ms Banerjee is creating the berths to assign to party members to keep them happy. The Trinamool Congress has lately witnessed some rebellion, even suspending an MLA, Shikha Mitra, on Wednesday.
"The entire party is in big trouble. So how to please the MLA," says Anisur Rehman of the CPM, adding, "so they are trying to create posts for them. But it will not work."
The Trinamool Congress, of course, is completely dismissive.
"That is their perception," says Parliamentary Affairs Minister Partha Chatterjee. "Why should I comment on that? They are talking rubbish in many issues. All of you know that we are having financial burden because of the last government. Are we not doing developmental work?"
Fact is, the parliamentary secretary post existed widely from 1935 to 1961. Recent moves by states, including Rajasthan, Goa and Nagaland, to create the new post have been challenged in court. West Bengal may go the same way.