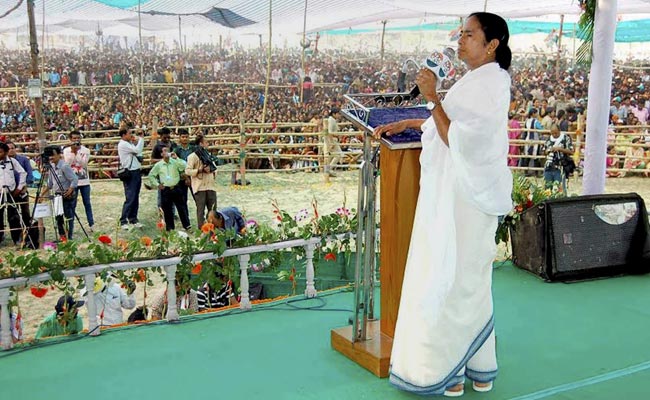 Kolkata:
Three months after mobs went on a rampage in Bengal's Malda district, set fire to a police station and several vehicles parked around it, West Bengal chief minister Mamata Banerjee called it a "small trouble" and accused the BJP of trying to turn it into a "riot".
"The BJP is always looking for opportunities to start a riot or a clash," she said in her speech at Kaliachak during an election rally on Monday.
"I know some days ago there was a small trouble in Kaliachak... I don't want to call it small or big... the BJP people tried to make it a Hindu-Muslim issue... They tried to start a riot," the chief minister said. "But we tackled it with a strong hand. We don't want riots. Because if there is one, Hindus will die and Muslims will die. We did not allow a riot."
On January 3, thousands of Muslims had gathered at Kaliachak to protest against a slur on the Prophet. Suddenly, a mob attacked the local police station. At the time, Ms Banerjee had said the rampage was triggered by a BSF vehicle trying to pass through the crowd.
But the BJP had dismissed the claims and alleged Ms Banerjee's minority appeasement policy was behind the incident. A team of BJP lawmakers had gone to Malda by train. Not allowed to go to Kaliachak by the administration, they had demanded the home minister's intervention.
"Unfortunately in Bengal, if there is some incident, the CPM and Congress do it also. The Congress would not do such things earlier. And the BJP is constantly trying to find an opportunity to start a riot, to start a clash," Ms Banerjee added.
Kaliachak is part of the Sujapur Assembly constituency, which goes to the polls on April 17.
Mr Abu Naser Khan Chowdhury, who was earlier with the Congress and later switched to the ruling Trinamool Congress, is the sitting lawmaker and party candidate at Sujapur. His Congress rival is his nephew, Ishan Khan Chowdhury.