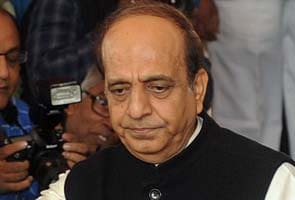 New Delhi:
The senior-most leaders of the Congress were forced into an emergency meet at the Prime Minister's house late tonight to discuss Mamata Banerjee's request to sack her party colleague, Dinesh Trivedi, as Railways Minister. Sources say the PM will accept Ms Banerjee's request; and her nominee Mukul Roy will replace Mr Trivedi in the Union cabinet.
Not without acute embarrassment for the government; the Prime Minister had praised Mr Trivedi's Railways budget as progressive and modern.
But Ms Banerjee disagrees. She wrote to the Prime Minister earlier tonight asking for Mr Trivedi to be replaced by Mukul Roy, a union minister from her party. She also wants the government to reverse the hike in passenger fares announced by Mr Trivedi in Parliament today as he shared the Railways budget. Congress sources say that the party says it's upto Ms Banerjee to decide her nominee to the union cabinet, indicating that Mr Trivedi's dismissal is imminent. "It's an internal matter of that party (Trinamool Congress). The Prime Minister will take appropriate action", said Congress spokesperson Rashid Alvi.
Mr Trivedi has been punished by his party chief for raising passenger fares nominally, ranging from two paise per kilometre to 30 paise per kilometre. This is the first hike in fares in nine years. Mr Trivedi said earlier today that he had done his duty and "now it is upto God." In a lengthy interview to NDTV this evening, he suggested that he was prepared for his dismissal. Mr Trivedi acknowledged that he had not briefed Ms Banerjee about the hike in fares.
Internally, say sources, the Trinamool Congress believes that if they don't oppose this hike they will find it difficult to object to the next petrol or diesel price hike - something they have done in the past to prove they stand for the aam admi or common man.
Not only is Mr Trivedi a senior leader from Ms Banerjee's party, the Trinamool Congress (TMC), but he was also her nominee to the union cabinet to replace her as Railway Minister when she headed to Kolkata as West Bengal Chief Minister. This is the first time that a minister could be fired even before Parliament debates his budget.
Mr Trivedi was attacked by his own party immediately after he had presented his first rail budget. First, the Trinamool's Rajya Sabha MP Derek O Brien, tweeted, "Railway Budget... what was all that about increasing fares across the board? Upper class... maybe ok... but all? Sorry, cannot agree." Then, fellow TMC minister Sudip Bandopadhyay demanded that the hike be withdrawn. "We are opposing because of our party leader Mamata Banerjee who has taught us to protect interests of poor people. We have told Dinesh Trivedi to withdraw the hike. The party has not discussed anything with minister on the railway budget," he said.
The final word from Ms Banerjee came a little after 4 pm; she declared at a rally in Nandigram in Bengal, "We will not accept the hike, be sure of that." Ms Banerjee then headed back to Kolkata and reportedly wrote to the PM at around 8.30 in the evening asking that Mr Trivedi be removed. She has also summoned Mr Trivedi to Kolkata.
Earlier today, sources said that Mr Trivedi had been ordered by Ms Banerjee to either resign or roll back the increased prices. He had indicated that he would not change his mind. Referring to the precarious financial health of the railways, he said, "The railways was getting into the ICU and I have pulled it out of ICU. You cannot have everything together." (
Full text: Dinesh Trivedi presents Rail Budget
)
The Prime Minister has praised Mr Trivedi's Railways budget, describing it as "forward-looking with emphasis on safety and modernisation." First reactions from passengers all over the country have been largely the same: that the fare hike is too nominal to really hurt passengers; they all said they would readily pay a little more for a safer journey. (
Rail Budget: Passenger fares hiked after nine years; focus on safety, fiscal prudence
)
But with her 19 Lok Sabha MPs, Ms Banerjee has the power to topple the government. So no demand is dismissed out of hand. Referring to reports of her differences with the Railways Minister, Congress spokesperson Abhishek Manu Singhvi said this was "an internal TMC matter" and said issues like a potential rollback of fares would have to be "looked into."
Sources say Ms Banerjee has been upset with Mr Trivedi for a while now, possibly because of his perceived closeness to the Congress. He also ran into trouble last week when he said that his party may not be opposed to early general elections, which means the UPA would not last its full term. Ms Banerjee later said that her MPs had been asked not to express their personal views.