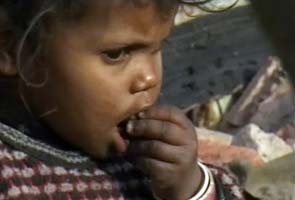 Delhi:
The makeover of the national Capital through the Commonwealth Games has made little difference to the capital's hungry underbelly. Tucked away from the flyover-knit high-rise city are hundreds and hundreds of slums, where families go to sleep hungry at night. Statistics show that most of the hungry and clinically undernourished are children.
Saroj's story is one such instance. In a dimly lit cramped room, her two-year-old child weighs just 6.5 kilos. This is a case of Grade Four malnourishment, a malnourishment that can kill. As a result, Saroj has had to stop work to look after him. This has pushed the family into deeper poverty. Now she too is down with chronic dysentery and low-grade fever.
Enter any home in New Seemapuri and tis more or less a similar story. There is filth and squalor everywhere and almost every child randomly weighed is malnourished. Nafisa was barely a kilo-and-a-half at birth. Critical intervention at a Balwadi run by NGO Mobile Crèches has brought him out of fourth grade malnutrition to second. But six months he's slipped again to third again to third grade malnutrition. Explains Nafisa's mother, ''He suffers from severe dysentery time and again. On top of it, I am not lactating properly.''
Statistics show that 47% children of the urban poor in Delhi are malnourished. That's nearly one out of every two child in this category. If you take the total city 37% of children in the national Capital are malnourished. Sadly, but not surprisingly, they continue to remain utterly invisible.
Radhika Bordia