Around 200 people have died in Maharashtra, Karnataka and Kerala - the three states worst affected by floods caused by heavy monsoon rains in several parts of the country in the last few weeks. Lakhs have been forced out of homes due to floods.
In Kerala, Malappuram and Kozhikode are on red alert today, which suggests likelihood of "heavy to very heavy rain". More than 90 people have died in the floods and 60 people are missing in the state, which suffered its worst deluge in a century last year.
In Karnataka, 58 people have been killed and seven lakh have been displaced. Chief Minster BS Yediyurappa has announced a compensation of Rs 5 lakh for the family members of those who died in the floods.
A red alert has also been issued for Madhya Pradesh and Rajasthan today.
Here are the Highlights on floods in different parts of the country:
Heavy rains expected in north Gujarat
After a lull, heavy rains are likely to lash parts of north Gujarat on Thursday and Friday, the India Meteorological Department (IMD) said on Wednesday. Heavy rains may occur in parts of north Gujarat, especially in Banaskantha, Sabarkantha, Mehsana, Aravalli, Mahisagar and Dahod districts, it said.
Volunteers of Red Cross Society packed food and relief materials that are to be delivered to flood-affected people in Kalahandi and Balangir districts.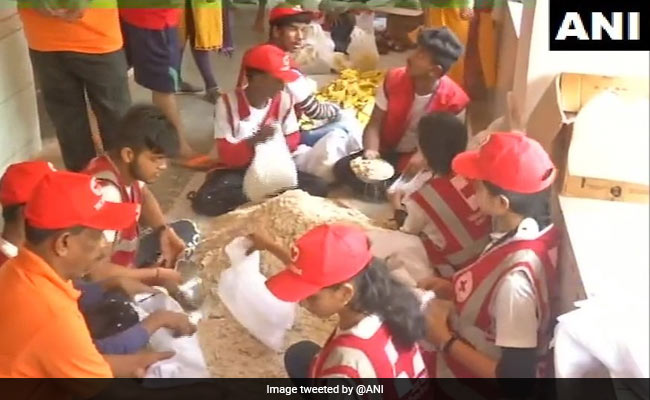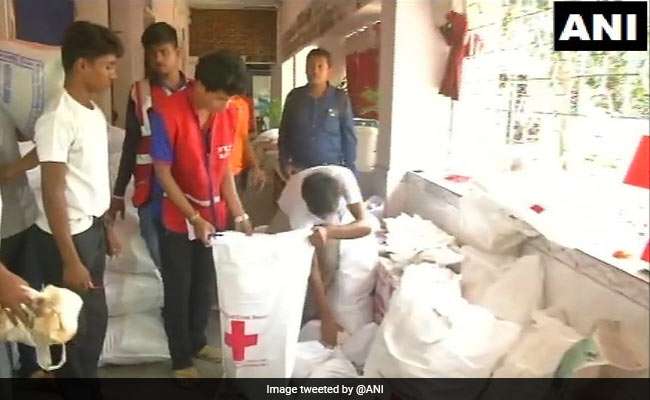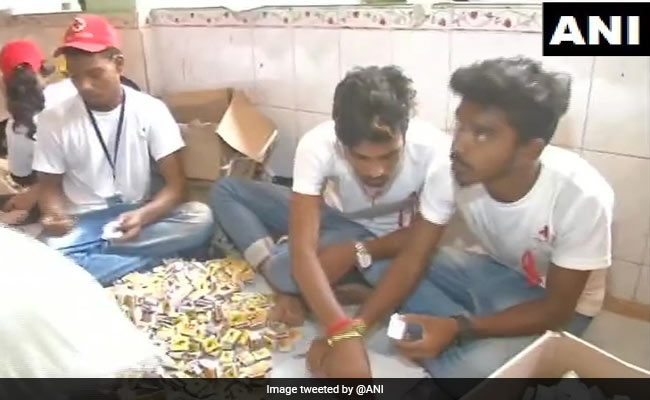 Heavy rainfall is expected in parts of Karnataka, Maharashtra and Gujarat, as well as the central state of Madhya Pradesh, in the next two days, weather officials said
Mahanadi in spate, 11 Odisha districts on high alert
Odisha Special Relief Commissioner (SRC) Bishnupada Sethi on Wednesday asked Collectors of 11 districts to prepare for the impending flood in Mahanadi river. Due to heavy rainfall in the lower catchments of the Mahanadi, about 11.5 lakh cusec of floodwater is likely to be discharged at Mundali in Cuttack between 6 am to 10 am on Thursday.
Bolangir, Boudh, Subarnapur, Nayagarh, Khordha, Cuttack, Angul, Puri, Jagatsinghpur, Kendrapara and Jajpur Collectors have been asked to take necessary steps.
Floods claim 58 lives, 15 missing in Karnataka
Floods in Karnataka have claimed the lives of 58 people while 15 others are missing, official data released by Karnataka State Natural Disaster Monitoring Centre (KSNDMC) said on Tuesday.
Source: IMD - Bengaluru issued a RED alert for coastal Karnataka & Malnad districts and an ORANGE alert issued for Belagavi & Mysore districts today. pic.twitter.com/EIC3UTJ7ol

- KSNDMC (@KarnatakaSNDMC) August 14, 2019
102 deaths have been reported in Kerala, with 59 people missing. In Malappuram district 51 are missing. The state government has set up 18, 8035 in relief camps.

Kerala State Disaster Management Authority (KSDMA): 102 deaths, 59 people missing, & 35 injured due to flood-related incidents across the state, between 8th August to 14th August. #KeralaFloodspic.twitter.com/9Ry1gz0E9x

- ANI (@ANI) August 14, 2019
In Andhra Pradesh, 70 Crest Gates Of Prakasam Barrage Lifted
Seventy crest gates of Prakasam barrage have been lifted on Wednesday, with huge inflows of flood-water reaching the reservoir from Pulichintala project on Krishna river, news agency ANI reported.
The Prakasam barrage on river Krishna is receiving a huge amount of flood-water. The barrage is receiving 4.5 lakh cusecs from the Pulichintala project and 70 gates of the barrage have been lifted for six feet height to release 4.5 lakh cusecs of water into the sea.
Train Services Disrupted In Flood-Hit Maharashtra
Amid heavy rainfall in Maharashtra, several Mumbai and Pune divisions of Central Railways on Wednesday announced the cancellation, diversion and short origin and termination of various trains. The train en-route Castle Rock-Miraj has been cancelled for today.
The trains running between Kohlapur-Gondia, Kohlapur- Solapur, Kohlapur- Manuguru, Kohlapur- KSR Bengaluru, Kohlapur-Tirupati, Kohlapur-Bidar have been shortly originated for today while Kohlapur-Nagpur will be shortly originated on Friday, news agency ANI reported.
Another train running between Bidar-Kohlapur route will be short terminated at Miraj Junction on Thursday.
The state has been ravaged by the heavy and continuous downpour, severely affecting the transportation and crippling normal life.
Missing Karnataka Man, 60, Comes Out Alive Two Days After He Jumped Into A Swollen River
A 60-year-old man in flood-hit Karnataka has come out alive two days after he jumped into a swollen river. Read
here
.
Pinarayi Vijayan Tweets In Tamil, Urges For Help For Kerala
In a series of tweets, Kerala Chief Minister Pinarayi Vijayan today appealed for assistance to his rain-ravaged state, where 95 people have been killed in various incidents.
Mr Vijayan tweeting in Tamil seemed to be an attempt at reaching out to the people of Tamil Nadu, as hinted by an official in his office.
In the series of tweets, Mr Vijayan said some people were "spreading false propaganda" that Kerala required no assistance in the wake of the monsoon fury which led to landslides and floods, leaving 95 dead and nearly 2.25 lakh people displaced.
"The Kerala government is doing its best to help the families affected from the rain and (relatives) of those killed," he said, while pointing out that a UN report has pegged the losses from last year''s deluge in the state at Rs. 31,000 crore. Read
here
Karnataka Chief Minister BS Yeddiyurappa is constantly monitoring the flood situation in the state that has suffered massive damage due to floods this year, an official statement said. The opposition has attacked Mr Yeddiyurappa-led government, which still doesn't have a cabinet two weeks after he was sworn in as chief minister.